Kendall & Kylie Jenner Spotted At Wireless Festival Following Tupac T-Shirt Drama
10 July 2017, 10:31 | Updated: 10 July 2017, 10:33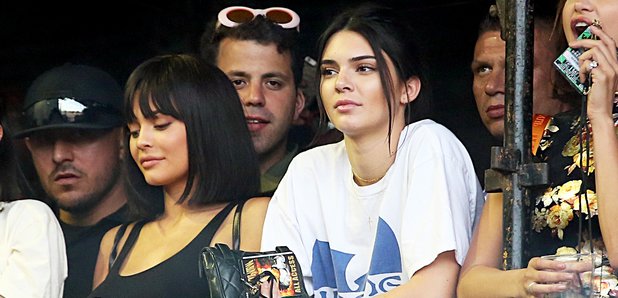 The sisters were out in London.
Kylie Jenner and Kendall Jenner were both spotted at Wireless Festival in London's Finsbury Park this weekend.
The famous siblings were joined by friend Bella Hadid, as they supported Kylie Jenner's boyfriend Travis Scott, who headlined the festival on Saturday.
The trio watched Travis perform from the side of the stage and also tucked into some Nando's in the backstage area.
OMG @KendallJenner @KylieJenner @bellahadid munchin' on a @NandosUK @WirelessFest pic.twitter.com/jDqSNPkPKE

— Deja Bruh (@adbruh) July 8, 2017
This was the first time Kylie and Kendall had been spotted in public since a huge public backlash against their 'One Of One' t-shirts, which featured pictures of Tupac, The Notorious BIG, Metallica and more.
Since the incident, many of the artists featured on the t-shirts have complained, while Tupac's photographer Michael Miller is reportedly suing the sisters for trying to profit off his work.
According to TMZ, Miller claims he never wanted to work with the Jenners, "especially Kendall following her PR disasters."
Biggie's mum Voletta Wallace also expressed her anger at the situation, writing: "'I am not sure who told @kyliejenner and @kendalljenner that they had the right to do this.
"The disrespect of these girls to not even reach out to me or anyone connected to the estate baffles me. I have no idea why they feel they can exploit the deaths of 2pac and my Son Christopher to sell a t-shirt. This is disrespectful , disgusting, and exploitation at its worst!!!"
The controversial t-shirts, which had the girls' faces superimposed over the top of iconic artist images, are no longer for sale.