Kylie Jenner Accused Of Copying This Clothing Brand's Camo Designs
12 June 2017, 15:44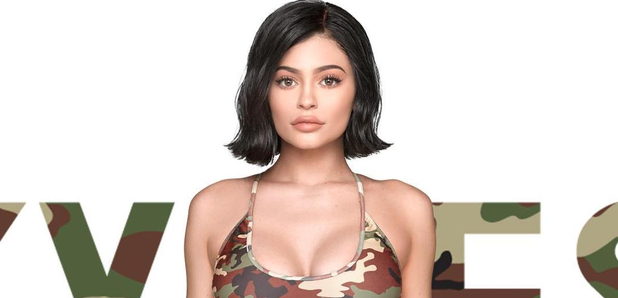 The reality star has also been called out for cultural appropriation.
Kylie Jenner has been accused of copying an independent fashion brand's designs following the launch of her latest merchandise range.
After debuting her new collection of camouflage clothing, the social media siren was called out by Tizita Balemlay, the creative director and founder of PluggedNYC, for copying her designs.
Balemlay took to Instagram to post side-by-side images of her collection beside Jenner's, which bares an obvious resemblance.
In a previous post, Balemlay argued that, while she never claimed to start the 'camo movement', she "brought it back to life".
"I can't remember one BRAND that sold matching Camo two pieces that weren't generic tees with cargo for ladies before my brand, unless it was custom." says the founder.
"But hey... money is power smh I started my brand with pennies funny how someone can just take a whole movement bc of how much money and power they have."
Interestingly, it later surfaced that the youngest of the Kardashian-Jenner clan had previously ordered clothing from PluggedNYC and even had tops custom made.
The black owned company that Kylie stole her camo clothes idea from is posting the receipts of when Kylie ordered from them and I'm LIVING pic.twitter.com/4r0xEwhw6o

— Kelsha. (@kelshareese) June 9, 2017
Jenner is yet to respond to CEO Balemlay, whose PluggedNYC designs have been worn by Rihanna, Keke Palmer and Little Mix in the past.
In addition to the copycat accusations, Kylie has also been accused of cultural appropriation after allegedly stealing a look previously worn by Destiny's Child.
The R&B group rocked iconic camouflage bikinis in their music video for 'Survivor' and Twitter didn't fail to notice.
White Media: "Kylie Jenner starts new camo trend"

Destiny's Child: *Cough* pic.twitter.com/fIt2irf6SP

— Sammy Salsa (@SAMMYSALSA84) June 8, 2017
Destiny Child's didn't wear camo bikinis 16 years ago in Survivor video for you to say Kylie is the one to start the trend. Respect yourself https://t.co/bo8H6xZGZV

— c (@chuuzus) June 7, 2017
There better be some royalties for Destiny's Child from those camouflage bikini sales Kylie Jenner pic.twitter.com/zFlnAK0gOC

— Jo (@thefrndlyghst) June 9, 2017
Again, Jenner is yet to respond to the claims.
The backlash comes just months after older sister Kendall faced worldwide criticism for a Pepsi commercial which appeared to reference the Black Lives Matter Movement.