Kylie Jenner Sparks 'Butt Injection' Surgery Speculation After Posting Racy Bikini Photos
14 August 2019, 10:31 | Updated: 14 August 2019, 10:41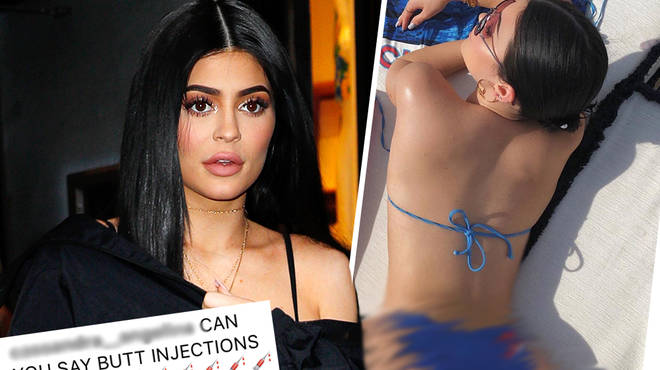 Beauty Mogul Kylie Jenner has been accused by fans of getting 'butt injection' surgery to enhance her behind. The speculation comes after the internet sensation posted bikini photos.
Kylie Jenner has been accused of getting 'butt injections' by trolls on Instagram since the beauty mogul recently posted new bikini selfies of herself in Italy.
The reality TV star has been celebrating her 22nd birthday this week, going on dates with boyfriend Travis Scott and spending time with family. The internet sensation has been staying in a luxury superyatch worth $250 Million.
On Tuesday (Aug 13) Kylie Jenner took to Instagram to share bikini selfies. The "Kylie Cosmetics" owner was pictured laying down on a boat with a scenic view of blue waters and green land in the background.
The social media guru uploaded two photos. One of a side profile of her laying down and another of a birds eye view shot of her behind.
With Kylie's behind exposed, fans wasted no time jumping into the comments section. Many fans comments suspected Kylie Jenner of getting 'butt injections'.
One Instagram user wrote "Ok not being mean or anything like that but did she get butt implants or something ?" underneath Kylie's photo.

Another fan commented "CAN YOU SAY BUTT INJECTIONS 💉" on the Instagram photo. Fans who commented on Kylie's photo speculate that she has gotten surgery to achieve her figure.
While some fans joked and mocked that fact that Kylie may have gotten surgery, other fans were worried and concerned for what younger girls will aim to achieve by looking at her alleged "fake body".
In other Kylie Jenner news, she recently posted a video of herself and boyfriend Travis Scott jumping off the super yatch, which was 71 ft high.