Kim Kardashian Slammed After Posting Topless Photo Taken By Her Daughter North
9 February 2018, 10:06 | Updated: 9 February 2018, 10:08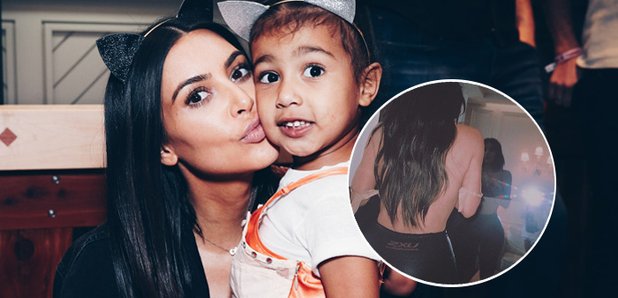 The reality star credited her 4-year-old daughter as the photographer of her latest nude photo.
Kim Kardashian has come under fire for posting a topless photo of herself - which was taken by her four-year-old daughter, North.
The reality TV star is facing serious backlash for the image, which shows Kardashian taking off her bra and holding her arms to her chest in front of a mirror.
North, the eldest of the Kardashian-West offspring, can be seen capturing the moment as she stands behind her mother, obscured by the camera flash in the reflection.
Kardashian captioned the image with a camera emoji, adding "By North" as crepitation, which has resulted in uproar from fans.
"Your Child!!!????? Really??" wrote one baffled user, while other slammed the star for "bad parenting" and labelled the move as "disgusting".
"Distasteful and disgusting...the narcissism has gone too far. Social Services needs to investigate..." said one follower.
Another said: "HOW SHOCKINGLY DISGUSTING!!! Does this women have any class or talent at all!? Just when you think she can't get any worse she does!"
Piers Morgan - who was recently sent a Valentines Day gift by Kim - took to Twitter to criticise the mother-of-three for the image.
Kim Kardashian now posting topless photos of herself taken by her 4-yr-old daughter.
Pathetic & creepy. pic.twitter.com/eb3bcoLEKl

— Piers Morgan (@piersmorgan) 8 February 2018
Others jumped to the KKW Beauty owner's defence and accused some of her fans of "mom shaming".
"It's her daughter there's a lot going on around the world to focus on rather than complaining about a photo!" said one user, "At the end of the day she is amazing parent."
"Gorgeous mother and gorgeous daughter" said another, with a reel of heart-eye emojis.
Kim is yet to respond to the backlash.