Fans Think Kim Kardashian Is Shading Taylor Swift After Posting This 'Nude' On Instagram
5 December 2017, 10:50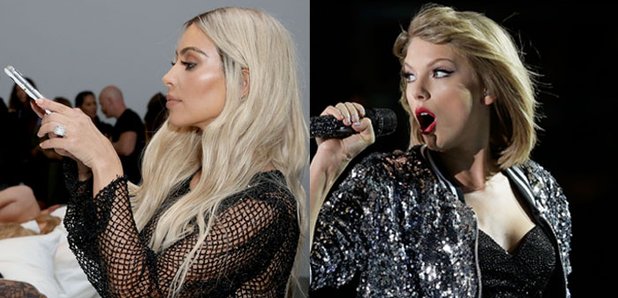 Swifties are lashing out.
Kim Kardashian appears to have reignited her feud with Taylor Swift and fans of the singer are not pleased.
Following their public spat last year, which resulted in the reality star 'exposing' Swift on Snapchat, it appears Kim isn't letting the duo's bad blood slip away.
On Monday, the mother-of-two posted a photo of her taking a picture at Kanye West's 2016 'Famous' exhibition that featured nude wax figures of celebrities including her naked husband - and a naked Taylor Swift.
"Famous" she captioned the image which, incidentally, was posted just hours after Taylor appeared on the cover of British Vogue.
Soon after the image was posted, fans of Taylor bombarded the post with rat emojis after viewing it as a not-so-subtle dig aimed at their idol.
Users explained that snakes - the animal Kim referred to Taylor during their beef, and the symbol Taylor has been using in her new album 'Reputation' - eat rats, thus their new symbol for Kim.
"Kim Kardashian is a rat and Taylor Swift is a snake. Snakes eat rats." wrote one user.
"Kim Kardashian might be more obsessed with Taylor Swift than I am" said another.
Just remember, Snakes eat Rats #taylorswift #kimkardashian #its3am

— chloe. (@newxxromantic) 5 December 2017
can Kim Kardashian do something else besides shade Taylor Swift on social media? Doesn't she have more poc to steal ideas from or what?

— . (@iTSwiftCisco) 5 December 2017
Where is the outrage over a woman's naked figure being displayed without her consent?? Is that not sexual harrasement?! #taylorswift #KimKardashian

— Ana (@anapiesy) 5 December 2017
Calling all #Swifties please report @KimKardashian picture of the naked @taylorswift13 lookalike thing on instagram! She's living off the fame of our number one right now trying to stir up beef for publicity #taylorswift #reputation #reputaylurking

— Phoebe (@Deiphoebe) 5 December 2017
Last year, Taylor publicly took offence to her reference in Yeezy's 2016 track, which saw the rapper refer to her as a 'b*tch' and claimed that he made her famous.
After the bitter that followed between Taylor and the A-List couple, Kim allegedly blocked the snake emoji from her Instagram comments.
Despite the ongoing drama, Taylor's 'Reputation' was recently named the top-selling album of 2017.
Both Kim and Taylor are yet to respond to the reports.
Meanwhile, the beauty mogul has been teasing the Kardashian family's annual Christmas card, which is rumoured to reveal Kylie and Khloe's reported pregnancies.