Kim Kardashian Responds After Huge "Cultural Appropriation" Backlash Over Her New Braids
30 January 2018, 10:33 | Updated: 30 January 2018, 10:37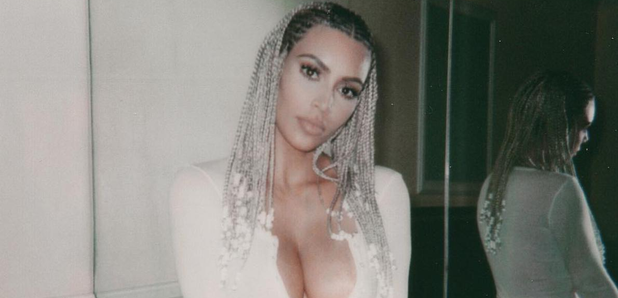 Fans won't be happy with her response...
Kim Kardashian appears to have responded after being slammed for cultural appropriation again by numerous people on social media.
The reality star, who has been accused of cultural appropriation in the past, sparked fresh controversy after premiering her new braided hairstyle on Snapchat last night.
"So guys I got Bo Derek braids, and I'm really into it," she said in the clip, referencing the white actresses' look from 1979 movie '10'.
However after posting the clip to her Snapchat, she was hit by a backlash by fans who accused her of culturally appropriating the braided style that is inspired by the Fulani women of East and West Africa.
They are called Fulani braids or some may even say corn rows. You could of called them either one but you called them "Bo derek" giving credit to a white woman for a black style knowing you already catch heat for culture vulturing. #KimKardashian #culturalvul pic.twitter.com/aIF4NzJ9rw

— Roses (@Teenagenature) 29 January 2018
Kim Kardashian got on Fulani braids and called them "Bo Derek" braids. These why culture appropriation trash. Also, how many times is that family gonna get dragged for them to stop appropriating other people's culture. This why Beyonce don't like her stiff lips ass. pic.twitter.com/Nd2NHt7aOB

— Pink India (@Yoldeeee) 29 January 2018
Kim Kardashian said she got "Bo Derek braids." She is 100% out here trolling Black women. You can't convince me otherwise. pic.twitter.com/LZeh4f8BqH

— Tina Vasquez (@TheTinaVasquez) 29 January 2018
Kim Kardashian on snap talking bout her Fulani braids are "Bo-Derek braids", while she got 3 black children I CANT tonight

— Eliza Bennet (@smASHing_hearts) 29 January 2018
At this point ... they know what they're doing. They know it's wrong . They don't live under a rock. And btw @KimKardashian , they're called Fulani braids . https://t.co/yIIZ9eF1Ya

— amanda (@amand_pearl) 29 January 2018
While others feel the response is an over-reaction:
What's the problem with Kim Kardashian having braids? Stop making nothing into something.

— Li. (@wishleeluck) 29 January 2018
My fellow Black women: Do y'all honestly get offended when Kim Kardashian wears braids? Or are you offended because it's the popular thing to do?

— Myleeza (@MyleezaKardash) 29 January 2018
Kim Kardashian then appeared to respond to the backlash on Instagram, writing: "Hi can I get zero f*cks please, thanks" while looking at her mobile phone.
She also reignited an old feud with Lindsay Lohan after the actress expressed her confusion over Kim's braids on Instagram.
Meanwhile, Kim Kardashian recently welcomed baby girl Chicago West, with her husband Kanye.
The baby was carried and delivered via surrogate due to medical complications.
Chicago West joins her siblings North and Saint.