Kim Kardashian Sent Petty Valentines To Taylor Swift, Blac Chyna & Her Other 'Haters'
2 February 2018, 10:42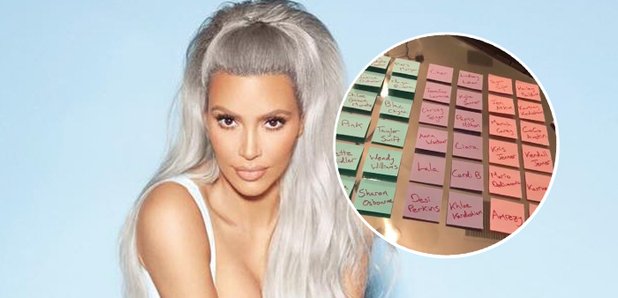 Wendy Williams, Lindsay Lohan and Piers Morgan also made Kim's list of enemies.
Kim Kardashian has a naughty list and she's decided that Valentines Day is the perfect occasion to expose it.
The reality TV star is sending her 'haters' gifts in honour of the loved-up holiday - the gift being one of her new limited edition KIMOJI Heart fragrances.
In a video posted to her Instagram story, Kim revealed a selection of Post-it notes with the names of her enemies written on each one.
Taylor Swift, who the star and her husband Kanye West have been bitterly feuding with for years, is included in the list as well as Blac Chyna, Kim's brother Rob's ex-girlfriend.
Lindsay Lohan is featured following her recent online spat with the KKW Beauty owner, as is Wendy Williams who slammed the mother-of-three over her nude photos.
Also included in the list are Piers Morgan, Bette Midler
, Sharon Osbourne,
Chloe Grace Moretz, Pink, Chelsea Handler, Sarah Michelle Gellar and Naya Rivera, all of which have feuded with the star at some point.
"I am writing a list for my press boxes. I'm gonna send them to way more than this, but I decided, for this Valentine's Day, everyone deserves a Valentine," said Kim.
"So I am going to send them to my lovers, to my haters, to everyone that I think of, because it's Valentine's Day after all."
Recipients in Kim's list of 'lovers' include her mother Kris Jenner, sisters Kendall, Khloe and Kourtney, Cardi B, Chrissy Teigen, Jennifer Laurence and Anna Wintour.
The perfumes come in three scents named 'BAE', 'RIDE OR DIE' and 'BFF' and are shaped like popular love heart candies.
The press kits include a giant hollowed-out chocolate heart which recipients must smash with a small wooden hammer provided in order to access the perfume inside.
I just broke open a giant chocolate candy with a Kim Kardashian fragrance in it. Any questions? pic.twitter.com/ckO4mO46K0

— Michelle Lee (@heymichellelee) 31 January 2018
However, fans became confused after the stars began posting videos of them receiving the confectionary-based gift, and wondered whether or not they would also receive one with their order.
Kim later took to Twitter to clarify that only the celebrity press kits include the chocolate heart, much to the disappointment of her fan base.
I've said it on my snap chat & IG stories but I just want to be extra clear that the press boxes of candy & the chocolate heart are not included with the perfume when ordering it online!

— Kim Kardashian West (@KimKardashian) 2 February 2018
If those chocolate heart boxes are not for everyone, she should not have promoted them that way! Its disappointing that we cant have them !

— bhagyashri joshi (@joshibhagyashr2) 1 February 2018
Guys the perfume DOES NOT come w the giant chocolate heart & hammer! Very disappointing @KimKardashian ! #KKWFRAGRANCE

— iPrinceMB (@iPrinceMB) 1 February 2018
The KIMOJI Heart fragrances launch today on KKWFRAGRANCE.com.