Kim Kardashian Just Posted A Naked Selfie Days After New Baby & Fans Are Angry
19 January 2018, 10:47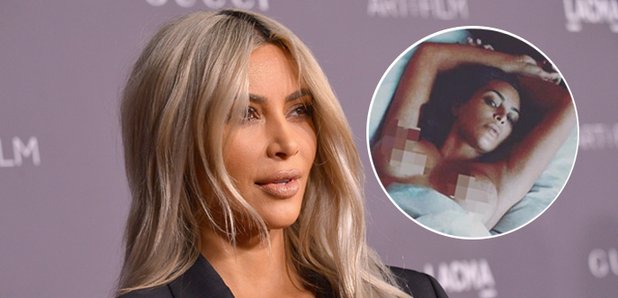 "You are a mother!"
Kim Kardashian has been blasted by fans after posting a nude selfie just days after the birth of her baby girl.
The reality TV star and her husband Kanye West delighted their followers after welcoming their third child on Monday, but fans were left disappointed by her latest Instagram post.
Kim can be seen laying completely naked on a bed in the steamy snap, although her chest has been pixelated.
"Night Cap" she captioned the image, shortly after posting a throwback photo of her posing scantily-clad on the bonnet of a Rolls Royce.
Shortly after the post went live, fans went in on the beauty entrepreneur, with one user commenting "It's horrible!! You're mum!!!"
Another wrote: "You're a mother of three now with so much money! No need for this Kim."
"You're a mother... When your babies are all grown up they're probably gonna hate you because of the pics and videos all over the internet," added another follower.
However, some fans jumped to the defence of the 'Keeping Up With The Kardashians' star, with one fan writing "Don't be jealous! she is so beautiful also she is be mommy".
"Nothing shameful about this at all. She's a mum of 3 with an amazing body, I would be do exact same thing if I looked like that" said another.
"I don't understand why people are soooo ofended by this pic... Go get a life!!!!!!!! Kim, you are stunning!!!" one fan insisted.
Meanwhile, Kim recently debunked a theory that suggested the name of her newborn daughter was inspired by fashion house Louis Vuitton.
The mother-of-three posted an image of the famous LV monogram on Instergram this week, prompting fans to take it as a cryptic hint.
However, Kim took to Twitter to clear up the rumours, writing: "NOPE! It was Kim Jones last show and wanted to snap a LV pic,"
"How amazing did Naomi & Kate look?!" she said of the artistic director's last show which featured the two iconic supermodels.