Kim Kardashian's Shocking 'Explicit' Nude Photos Have Sparked A Huge Debate Online
25 April 2018, 10:55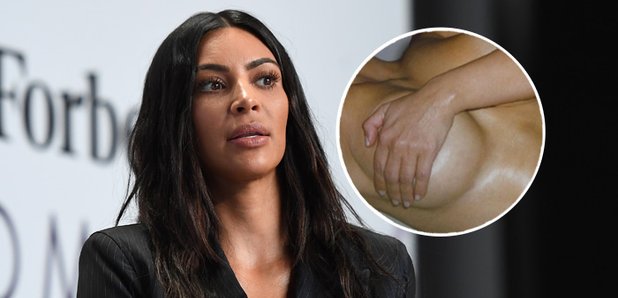 The mother-of-three is promoting her new fragrance.
Kim Kardashian has been teasing the upcoming release of her latest perfume by posting nude image of her body.
In an effort to promote the new addition to the KKW Fragrance brand, aptly named 'KKW Body', the reality TV star has stripped off for a series of naked images.
Leaving very little to the imagination, Kardashian posted an image of her bare chest covered only by her arm, one of her bare stomach and another of her naked body covered in a mold cast.
We took a mold of my body and made it a perfume bottle @KKWFRAGRANCE pic.twitter.com/Xh6QIzP0vW

— Kim Kardashian West (@KimKardashian) 24 April 2018
24 April 2018
The mother-of-three revealed that her new perfume bottle will be modelled on her naked body, hence the need to cast a mold of her famous curvaceous figure.
However, Kardashian has faced backlash from social media users who have slammed the "vulgar" images, urging the 37-year-old to "put some clothes on".
Others suggested her actions were an attempt to divert attention from her husband's latest controversy, Rihanna's new lingerie venture and Beyoncé's headline-grabbing Coachella performance.
As a mother even if I had the fame and money because yes I DO have the body, I would NEVER post this shit. Good God respect yourself and keep this for your husbands eyes only. Great thing to leave behind someday for your kids. Oh look its mom naked AGAIN

— Lorissa Moore (@lnyson36) 24 April 2018
Kim Kardashian every time Beyonce does something. pic.twitter.com/SnaS7VdjCp

— Chico (@Barrett_st) 25 April 2018
It's still not going to distract us from the fact that your husband @kanyewest is having a breakdown & being co-opted by the MAGA crowd. Your distraction tricks don't work anymore

— Marathon Chuck (@Chucknphilly) 24 April 2018
Why do u need to expose yourself? You are a mother. What will your children think when they see this now or when they are older. Put these sexual pics into a book and publish it.

— Mae (@northernangel8) 24 April 2018
Rihanna dropped her lingerie line and all the focus is on her so Kim Kardashian had to quickly run to post herself naked on the internet to get back the attention pic.twitter.com/31qeTzW8yA

— This Woman (@KingThandie) 24 April 2018
However, others jumped to the star's defence, with many defending her right to show off her body while others praised her figure.
Why is everyone so against this? There's nothing wrong or disgusting about the naked body. Why would her kids be ashamed of this? She looks INCREDIBLE. If I had her body I'd be showing it off too. xx

— Siobhan #Timeless (@slinehan1) 24 April 2018
Whether or not you like Kim Kardashian, I think we all have to be very careful when it comes to policing women's bodies. If we are fighting for women to have choice, then we should practice what we preach. Her body, her choice. Simple.

— ASHA (@ashabrom) 24 April 2018
KKW Body is set to launch on 30th April, with Kim recently revealing that the product smells like 'gold'.