Kim Kardashian's Latest Cover For Vogue India Is Sparking Outrage Online
27 February 2018, 11:00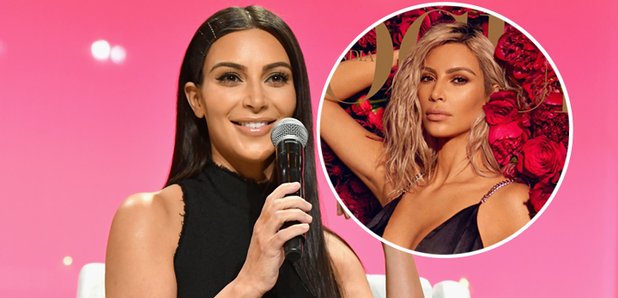 People think the publication should have chosen Indian models for the photoshoot.
Vogue India is facing backlash online following their decision to feature Kim Kardashian as their new cover model.
The publication chose the reality TV star as the face of their March 2018 - a choice which was met with severe critique soon after the images were released.
Kim can be seen laying on a bed of roses wearing a low cut black dress, before donning a striking red gown. In another image, the mother-of three appears naked with a dress draped over her chest.
However, it was the image of Kim wearing a lehenga - a traditional Indian skirt - that appeared to enrage some readers.
Kim Kardashian-West for Vogue India. pic.twitter.com/0CVMep9493

— Pop Crave (@PopCrave) 27 February 2018
People took to Twitter to express their disappointment that Vogue had chosen to feature a non-Indian model on the cover.
"India's vogue should embrace and feature their own south Asian women instead of choosing someone from pop culture," wrote one user.
Many were also quick to point out that Kim's half-sister, Kendall Jenner, faced similar backlash after appearing on Vogue India's 10th Anniversary cover last year.
so many pretty Indian models out there and Vogue India somehow chooses kendall jenner and kim kardashian for their covers. How hard is it to have Indian women represent Indian culture.

— n (@nxvyaa) 27 February 2018
I can't believe @VOGUEIndia featured Kim Kardashian on their cover as if we don't see her featured on a different magazine every day. India's vogue should embrace and feature their own south Asian women instead of choosing someone from pop culture

— fari (@fariiihaa) 27 February 2018
We have so many GORGEOUS Indian women who could be on the cover of @VOGUEIndia but you put Kim Kardashian on there. In 2018. Newp

— Sowmya Krishnamurthy (@SowmyaK) 27 February 2018
Umm Kim k for vogue India? Wearing a lehenga ?

— (@blondezaynstans) 27 February 2018
The fashion industry loves to preach about the importance of diversity & the efforts made towards it but then @VOGUEIndia will go & put Kim K on its cover

— Ak (@__akxo) 27 February 2018
I have nothing against Kim Kardashian but @VOGUEIndia is really doing itself a disservice by continually neglecting to portrait brown women in their "magazine"— you're perpetuating a detrimental cycle of underrepresentation. Stop white washing your own damn culture.

— Aditi Prasad (@P_diti) 27 February 2018
Have you seen the people in offices like Vogue India/fashion industry/Bollywood?

They're out of touch. They live in their own world. The result?

Kim Kardashian in a lehenga. India is rich with woman idols. Gorgeous women of substance and beauty.

They picked. Kim.

— Aashish Mehrotra (@AgniBankai) 27 February 2018
kim kardashian in a lehenga for vogue India is making me sick lmao what a joke

— ten day (@namyusult) 27 February 2018
Both Kim and Vogue India are yet to respond to the backlash.
Meanwhile, Kim recently unveiled the first image of her daughter Chicago, her third child with rapper Kanye West.