Here's How Twitter Reacted To Khloe Kardashian's Pregnancy Announcement
21 December 2017, 10:36 | Updated: 21 December 2017, 10:38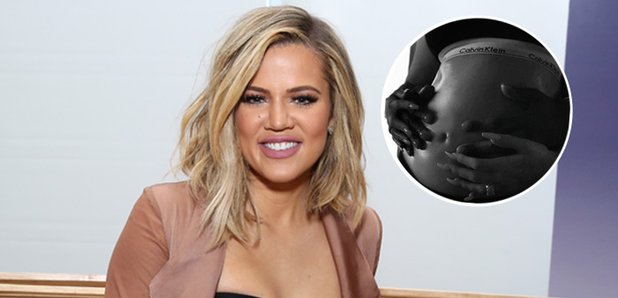 Khloe confirmed the news on Instagram.
After months of speculation, Khloe Kardashian has confirmed that she is expecting her first child.
The reality TV star announced the news on Instagram last night by posting a black-and-white photograph of her pregnant belly.
Khloe's hands can be seen resting on her stomach alongside those of her NBA player boyfriend, Tristan Thompson.
"My greatest dream realized! We are having a baby!" began the 33-year-old in her lengthy paragraph.
Khloe revealed that the couple wanted to enjoy the first stages of the pregnancy "privately" before making the long-awaited announcement.
"I know we've been keeping this quiet but we wanted to enjoy this between our family and close friends as long as we could privately." she writes.
"To enjoy our first precious moments just us."
Following the public's response to the news, Khloe tweeted that she was "overwhelmed" by people's reactions.
I was so nervous to post our announcement but WOWWW I am overwhelmed with the response by you guys!!! Thank you! Thank you! I love you guys!!

— Khloé (@khloekardashian) 20 December 2017
Khloe's pregnancy news breaks one year after she finalised her divorce from former NBA star Lamar Odom - the pair wed in 2009 but split seven years later.
Last week, the fitness guru appeared to confirm the news during an emotional mid-season trailer for 'Keeping Up With The Kardashians'.
After the announcement, fans took to social media to share their excitement and joy for the happy couple.
Khloe Kardashian announcing shes pregnant is the best news ever to end the year

— Ellie Sophia (@ellliesophia) 20 December 2017
Khloe Kardashian finally announced that she's pregnant. Why do I feel like a weight has been lifted off of my shoulders???

— dani eldredge (@danieldredge_) 20 December 2017
Khloe Kardashian is pregnant & it makes me so happy cus she's always wanted this

— Valeria Garcia (@Valeriaa_Gee) 20 December 2017
me when I saw Khloe Kardashian finally announced she was pregnant pic.twitter.com/DdKsFTpkfV

— Maddie Dobson (@Maddie_Dobson) 20 December 2017
Don't even care, I'm so happy for Khloe Kardashian.
I've watched KUWTK for years and after thinking she couldn't have kids this is lovely.

— Laura (@HiLauraaa) 20 December 2017
me: I don't care about the Kardashian's at all
Khloe Kardashian: *confirms she's pregnant*
me: pic.twitter.com/QiVrKXkGUg

— Heather Killips (@heathaakillips) 21 December 2017
People are also hoping that Khloe's announcement will encourage her sister, Kylie, to confirm speculation surrounding her - Jenner is also said to be pregnant with her first child.
Khloe Kardashian : I'm finally announcing that I am pregnant !!

Me : Ok good girl there's one .. Now KYLIEEEEEEEEE pic.twitter.com/15vxprPb3i

— The Real Destiny Marilyn (@sweet_novacanee) 20 December 2017
So Khloe Kardashian announced she's pregnant so now I'm waiting on kylie to announce like... pic.twitter.com/X7VJCM8q0q

— william (@williamsheats) 21 December 2017
So Khloe Kardashian confirmed her pregnancy...when is Kylie going to confirm hers?? pic.twitter.com/rsR3Mf2neu

— (@WestCoastDoII) 20 December 2017
KHLOE KARDASHIAN JUST ANNOUNCED HER PREGNANCY ON INSTA, CMON KYLIE WE ALL WAITIN ON U TOO HUN pic.twitter.com/WJV6qj3iR5

— addi (@addison_ballard) 20 December 2017
Kylie is yet to respond to the rumours.