Khloe Kardashian Addresses Claims She "Stole" Tristan Thompson From Pregnant Ex-Girlfriend
1 March 2019, 11:38 | Updated: 1 March 2019, 11:42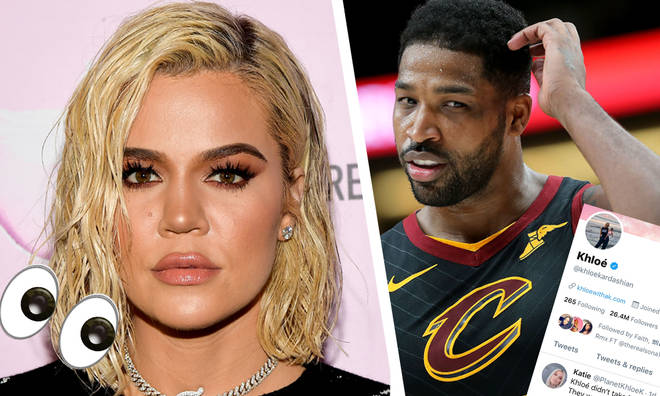 Khloe Kardashian likes a tweet denying that she was the reason for Tristan Thompson's and Jordan Craig's break up...
Khloe Kardashian has been in emotional turmoil recently after discovering Jordyn Woods is the "other woman" in the Tristan Thompson cheating scandal. In just a few weeks, she has lost a partner who she has a child with, and a close family friend who she adored.
Some fans have gone against Khloe and don't feel an ounce sorry for her as they believed Khloe took Tristan Thompson away from his now ex-girlfriend, Jordan Craig.
Khloe Kardashian started dating Tristan Thompson in August 2016 when his ex-girlfriend Jordan Craig was still pregnant with his baby Prince; she welcomed the child in December 2016.
Although Khloe cleared up rumours claiming the star "took Tristan away from Jordan Craig" back in 2018. In Nov 2018, Khloe made a comment on social media stating:
"PS he never left ANYONE for me,' adding, 'I have said this before but as I have learned the truth isn't as exciting as a lie. So the lie is what gets traction. The truth seems to get buried and ignored. Either way, it's all love and peace over here".
The reality star has had to clear up these rumours further amid the Tristan Thompson cheating scandal once again, after fans accuse her of stealing Jordan Craig's then-boyfriend.
Some of Khloe's followers have attacked her stating: "He left his pregnant girlfriend to be with you and you think he won't leave you someday".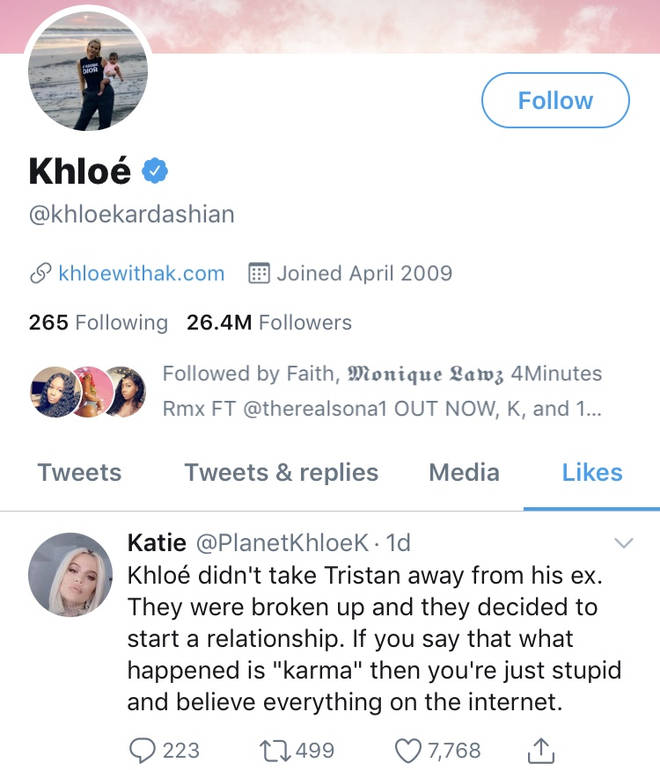 Khloe Kardashian has responded by liking a tweet from fan page PlanetKhloeK on Wednesday (Feb 27th).
The tweet defends Khloe and claims she did not steal Tristan Thompson from his ex-girlfriend. The tweet reads :
"Khloé didn't take Tristan away from his ex. They were broken up and they decided to start a relationship. If you say that what happened is "karma" then you're just stupid and believe everything on the internet."...and Khloe liked it.
Khloe has liked other tweets of fans supporting her during the Tristan Thompson cheating scandal (see below)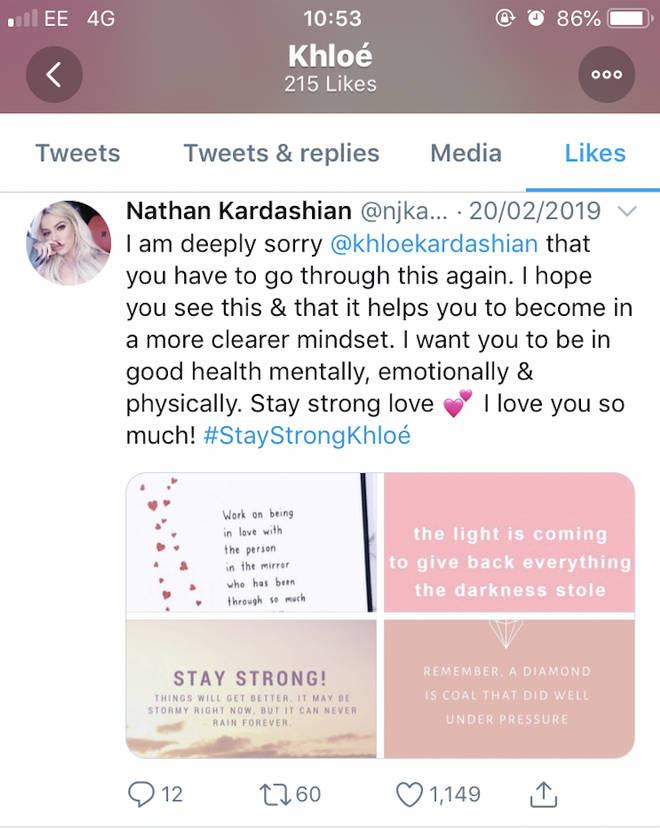 On Thursday (Feb 28th) Khloe Kardashian took to Instagram to address Tristan Thompson infidelity. The Kardashian star took to her IG story and shared a couple messages about cheaters, aiming her words at Tristan himself.
The post reads:
"You ever notice people would rather stop speaking to you instead of apologizing when they've done something wrong,"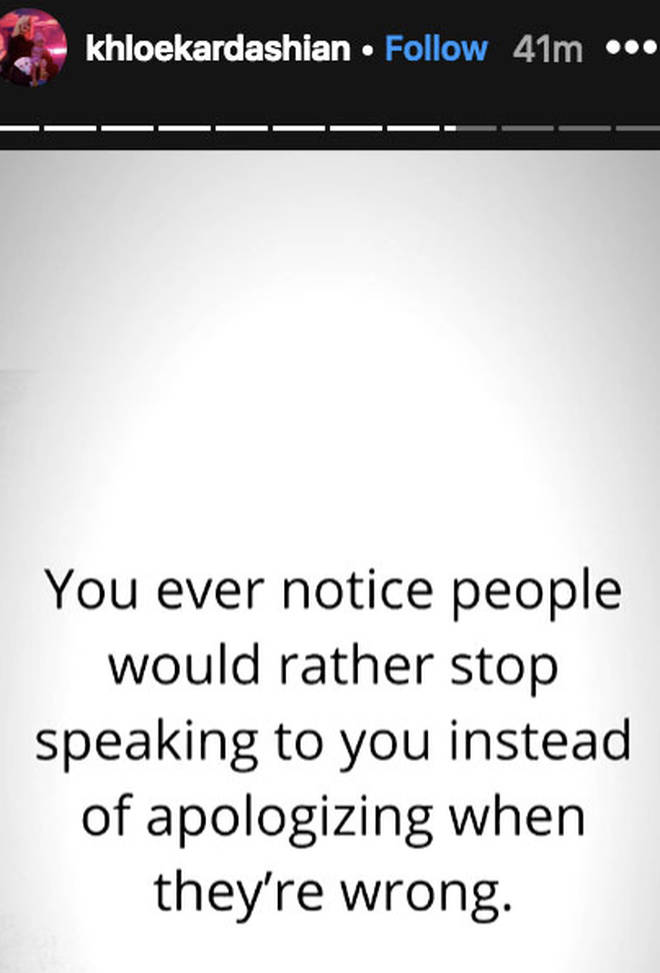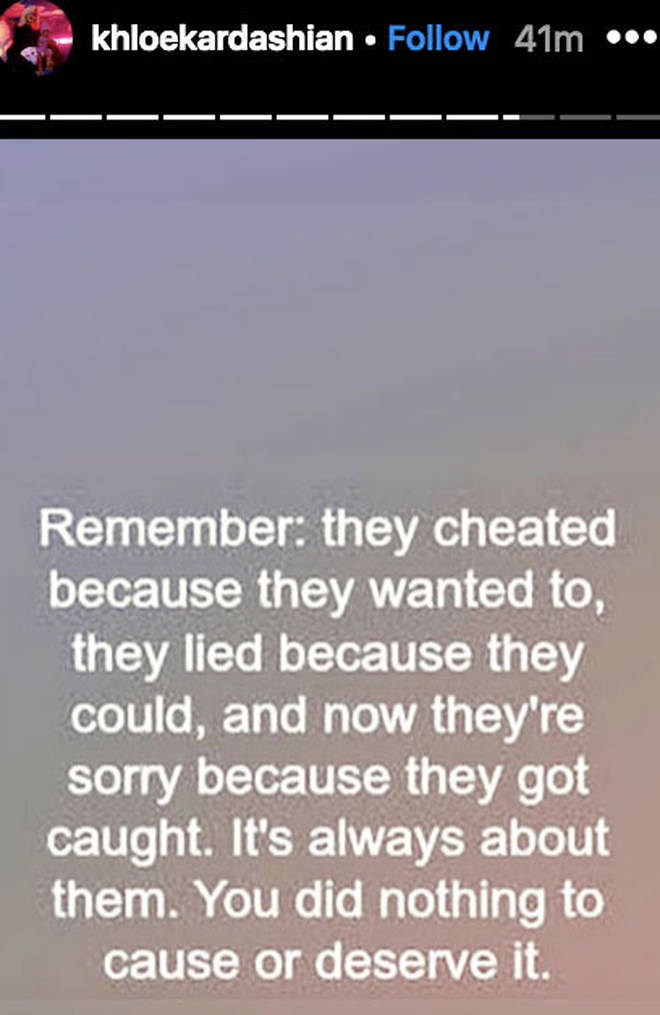 Khloe then made a follow up post on the topic addressing infidelity stating:
"Remember, they cheated because they wanted to, they lied because they could, and now they're sorry because they got caught. It's always about them. You did nothing to cause or deserve it."
Earlier in the day, Kardashian posted about dealing with a "rough patch" in her life. "Dear God, I am going through a rough patch in my life right now, but I trust in you," her post read. She then added: "Please help me unfold what you are trying to teach me in this storm. I believe that even in this storm, there is a powerful message that I can take to help strengthen me."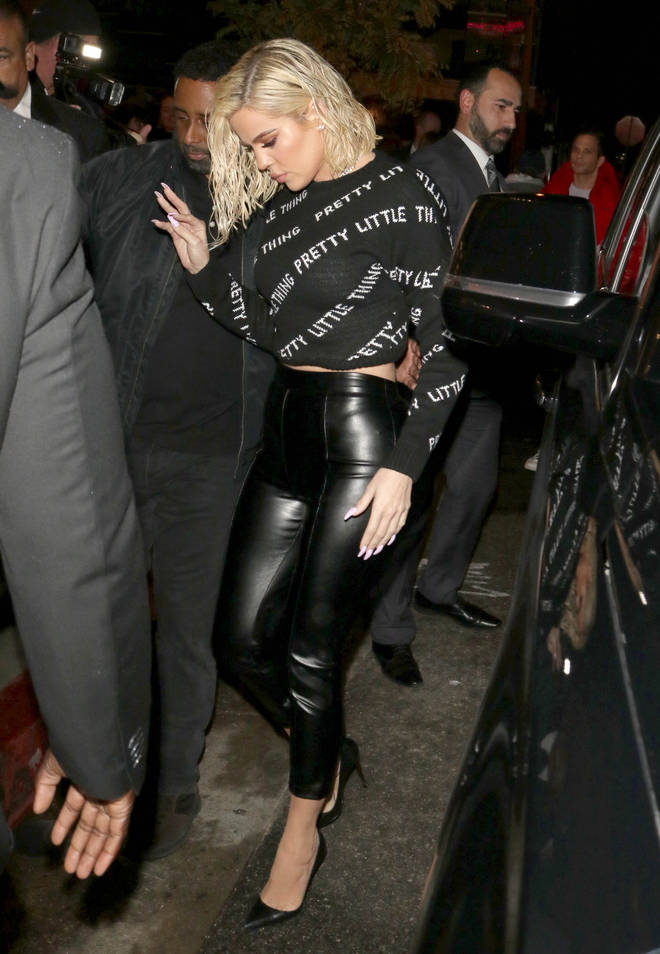 The 34 year-old reality star and "Good American" business owner, has responded to the cheating scandal by posting cryptic memes on social media. It is safe to say she is using memes as a way to comfort herself during these termultuous times.
The reality star has come to terms with the fact that she has been completely betrayed, by not one, but two people who she held close to her heart.
The memes also seems to help Khloe to communicate how she is feeling with her fans, without releasing any outward or direct statements.