Kendall & Kylie Jenner Face Fresh Cultural Appropriation Accusations
30 August 2017, 14:17 | Updated: 31 August 2017, 12:23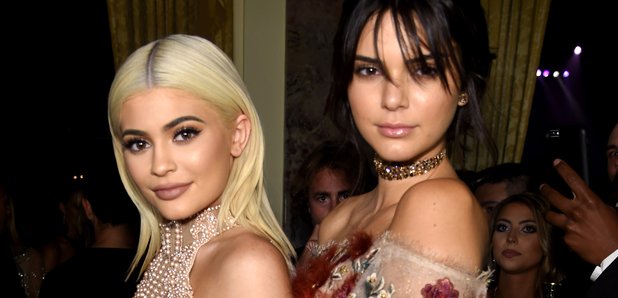 The pair are facing more controversy.
Kendall and Kylie Jenner are under fire for cultural appropriation, yet again.
The 'KUWTK' stars, who have been accused of racially insensitive moves in the past, are being labelled as "culture vultures" for their latest clothing line.
A Twitter user screenshotted a photo apparently from their Kendall + Kylie range, showing a model wearing large hoop earrings, a lace bra, baggy trousers and a shirt with two top buttons fastened.
Ashley Sherengo, who goes by @lipstockyittty on Twitter, captioned the image "@KendallJenner @KylieJenner will you ever come up with your own ideas? #culturevultures"
@KendallJenner @KylieJenner will you ever come up with your own ideas? #culturevultures pic.twitter.com/TZHKMLZenR

— Chica Picante (@lipstickittty) 26 August 2017
she literally took that entire look from Cholas from Latin culture She better realize that she's wearing what these female gangsters wear

— Adrian Saenz (@MCADRIANSAENZ) 27 August 2017
Many fans are accusing Kendall and Kylie of styling the shirt in a way that is specific to 'Chola culture' – which according to The Guardian is 'a specific subculture of first- and second-generation Mexican American girls influenced by hip-hop, enamoured with lowrider cars, and sometimes associated with gangs'.
The Chola 'look' has been used by celebrities in the past including Selena Gomez, Rihanna, FKA Twigs and more.
However after Sherengo's tweet gained almost 3000 retweets over 5000 likes, the original image was removed from the sisters' Instagram page.
Speaking to Refinery 29, Sherengo said: "I first saw the image on the explore page and I immediately noticed something was wrong when I saw that it was posted on the @kendalandkylie page. What bothers me is that they don't ever come up with their own original ideas.
"They are always taking ideas from others and never give credit. Aside from being unoriginal, it's definitely irritating to see these girls making money off a culture they know absolutely nothing about. When we —Latinas and Xicanas— dress in flannels and big pants, we get profiled and frowned upon. But when they do it, it's 'fashion."
I'm happy more people are learning to accept & appreciate the beautiful culture, but people gotta stop stealing shit

— Sarah Fowler (@graveyard_chick) 27 August 2017
Now y'all know how black people feel when our culture is sampled and used to sell shit

— ade in LONDON (@CleoSelene_ll) 27 August 2017
This girls need to understand other people's cultures are not a product to make money of.

— Aurora Morice (@iluvpieandlife) 27 August 2017
"They can educate themselves by interacting with us (Latinas/Xicanas) but even then, it still wouldn't make it ok for them to be selling clothes that look identical to what cholas in the 80's and 90's would wear.
"I don't know their thought process but I really hope they will learn from this experience and take time to re-evaluate their strategy when it comes to putting together designs."
Kendall and Kylie Jenner have been accused of cultural appropriation in the past and are yet to respond.
Meanwhile, Kylie Jenner has hit back at bizarre rumours that she shares underwear with her sister Kendall.
Following numerous reports, the 20-year-old shut down any suggestions that there is truth in the story.
Seeing some articles stating that kendall and I enjoy sharing underwear. Now THIS has to be the weirdest rumor I've heard yet! Lol

— Kylie Jenner (@KylieJenner) 29 August 2017
Wtf no lol https://t.co/H2rsBPw3qP

— Kylie Jenner (@KylieJenner) 29 August 2017