Kendall Jenner Sparks Outrage Over 'Problematic' New Pepsi Advert
5 April 2017, 10:09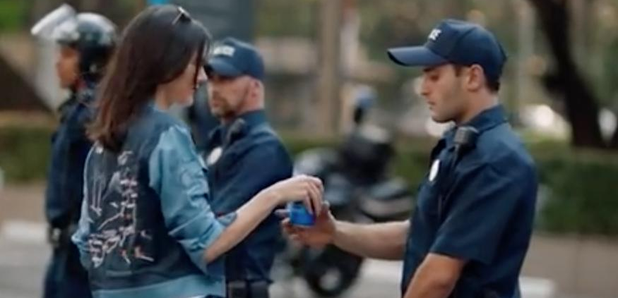 Some people are furious.
Kendall Jenner is being accused of undermining the Black Lives Matter movement in her new advert with Pepsi.
In the video, which is quickly going viral, Jenner leaves a photoshoot to link up with a group of protesters, before passing a can to police as a gesture of peace.
The officer then smiles and the crowd erupt with cheers.
Watch below:
However some people think the advert is influenced by protests over police brutality against black people in America.
Some critics have suggested that it paints a "very privileged, white" supermodel as the person to bring peace to struggles between civil rights activists and police.
that new pepsi advert is white privilegalicious.

— MNEK (@MNEK) April 5, 2017
Daaaaamn. I forgot my Pepsi at home pic.twitter.com/M3Up1eRa37

— Luisa Haynes (@wokeluisa) April 5, 2017
Pepsi commercial: heroic white girl Kendall Jenner single handedly defeats police brutality with the use of pepsi. The earth is saved

— Tina Kasali (@TinaKasali) April 5, 2017
"Kendall please! Give him a Pepsi!" pic.twitter.com/VzJfSha5Mw

— E (@esheikh_) April 5, 2017
Some people have also drawn comparisons between the advert and an iconic picture of Leshia Evans, who was charged down by riot police is Louisiana in 2016.
Kendall Jenner: Can I copy off of you?

Iesha Evans: No.

Kendall:* Looks over shoulder anyway*
Damn that. I'm getting this Pepsi money. pic.twitter.com/NUXwCZnM7p

— C I L L My Landlord (@GuruBluXVIII) April 4, 2017
In response to the growing criticism of the advert, Pepsi have released an official statement.
"This is a global ad that reflects people from different walks of life coming together in a spirit of harmony," it said.
"We think that's an important message to convey."
Kendall Jenner is yet to respond.