This Boy's Reaction To Justin Timberlake's Super Bowl Performance Is 2018's Latest Meme
5 February 2018, 10:36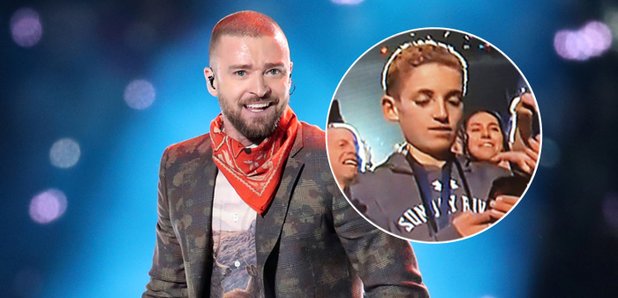 The Internet having a field day.
It's fair to say that Justin Timberlake's performance during the Pepsi Super Bowl LII Halftime Show 2018 split opinions over the weekend.
While the actual performance was riddled with sound issues, controversy over 2004's 'nipplegate' with Janet Jackson and a serious lack of N*SYNC, there's one thing that people can't stop talking about.
Towards the end of his performance, Timberlake went into the crowd to mingle with audience members as he sang his 2017 chart-topper 'Can't Stop The Feeling'.
The camera panned to a young boy - who was later identified as 13-year-old Ryan McKenna - who eagerly took a selfie with the singer before seemingly looking at the images back on his phone.
However, for viewers at home and on the Internet watching, it appeared as the though McKenna was simply uninterested in being in such close proximity to Timberlake.
Thus, a new meme for 2017 was born - welcome, #SelfieKid.
5 February 2018
Watching this cool teen was the best part of the halftime show #SBLII pic.twitter.com/FYAvwY6jJy

— Mashable (@mashable) 5 February 2018
okay another one... #SelfieKid pic.twitter.com/63r16S39kt

— mckenna (@McKennaBieger) 5 February 2018
That cell phone kid meeting JT #SuperBowlHalftimeShow #JustinTimberlake #awkward pic.twitter.com/MIY9iIR2Co

— Caroline McNamara (@cmcnamara1110) 5 February 2018
We all really know what is on that kid's phone #SuperBowl pic.twitter.com/dB8djMcSMB

— Choke Industries (@ChokeIndustries) 5 February 2018
5 February 2018
#SelfieKid pic.twitter.com/Ji9ikykdHo

— Dylan C (@DAcouder_99) 5 February 2018
5 February 2018
5 February 2018
When you snag backstage seats but you don't know the lyrics so you gotta look them up on your phone #selfiekid pic.twitter.com/4zlV6oztLm

— Jackmerius (@goldberg_jack) 5 February 2018
Here's the actual selfie he took.
AND HERE IT IS.#SelfieKid with @jtimberlake!#HalftimeSelfie#SuperBowlSelfie#SuperBowl #PepsiHalftime pic.twitter.com/Edww4CSSm7

— Good Morning America (@GMA) 5 February 2018
Following the viral comment, McKenna said in an interview: "I just thought to myself, 'I'll never get this opportunity again in my whole life,'"
"I just went for it."
Meanwhile, Timberlake has faced criticism from Prince fans following his tribute to the late singer during his performance.
Following rumours that a hologram of Prince would be featured, the 'Man Of The Woods' star covered "I Would Die 4 U" alongside a video of the late singer performing behind him as he played the piano.