JME Responds To Controversial Daily Mail Article Calling Him 'Racist' & 'Anti-Semitic'
18 May 2017, 12:44 | Updated: 18 May 2017, 15:43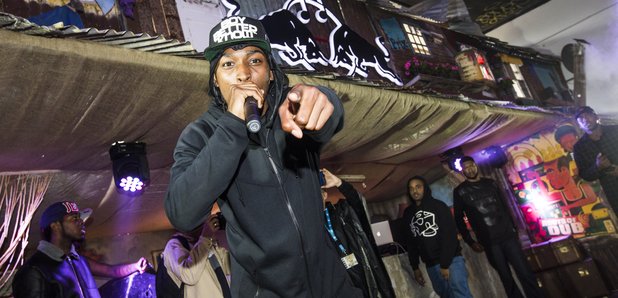 Grime fans are not impressed with the newspaper.
JME has officially responded to The Daily Mail, after the newspaper published a scathing article criticising several tweets dating back to 2010.
The article, which has sparked debate on social media, follows-up the Grime MC's recent support of Labour leader Jeremy Corbyn, which involved the pair meeting up to discuss the urban community's relationship with politics.
I met @jeremycorbyn today, and explained why bare of us don't vote. I forgot to ask for a pic, so here's one I borrowed pic.twitter.com/9X62jU8pQg

— Jme (@JmeBBK) May 14, 2017
The Daily Mail appeared to 'respond' by highlighting posts from JME's Twitter account, which included controversial phrases like 'bomb The White House' and 'f*ck the Queen'.
The newspaper also dug up tweets that included a jokes about rape and Jewish people, suggesting that Corbyn would face huge embarrassment.
However JME was quick to defend himself and praise those who had already defended him, adding some context to the tweets in question.
Sharing a screenshot of his timeline involving the tweets, the Boy Better Know MC revealed the wider context of his comments about The White House, The Queen and the rape joke – which was actually a quote from a Jimmy Carr sketch.
Read JME's response below:
Thanks everyone for having my back, but stop now don't worry, I'm not a celebrity, I haven't got a pop career to smear, or a boss to sack me

— Jme (@JmeBBK) May 17, 2017
You know we don't care about the media, that's the whole reason why some of the tweets were even tweeted. For this exact moment. pic.twitter.com/GllHvldne7

— Jme (@JmeBBK) May 17, 2017
Anyone that registered, thank you. Vote for whoever you want, no bias. Don't vote for someone because a "celebrity" or a "rapper" voted them

— Jme (@JmeBBK) May 17, 2017
I haven't got like a podium with 8 mics with different coloured foam pop stoppers and cameras flashing. But in case anybody cares…

— Jme (@JmeBBK) May 17, 2017
The print screened tweets earlier speak for themselves.

— Jme (@JmeBBK) May 17, 2017
The surprise sex rapey tweet was a Jimmy Carr punchline quote.

— Jme (@JmeBBK) May 17, 2017
I'm not a celebrity, or an antisemite, or a rapper.
I know you already know, but just in case.
Back to the task at hand.
Register to vote.

— Jme (@JmeBBK) May 17, 2017
JME has since moved to unite all voters to put their differences aside and come together.
Hahshshshahahshshhahahahaha nah everyone leave @timsculthorpe alone, he's just doing his job. No hard feelings.

— Jme (@JmeBBK) May 16, 2017
The goal is just to get the future adults, registered to vote. @TheFierceEagle that's the goal.

— Jme (@JmeBBK) May 17, 2017
No childish tearing down of either side.
We're all mates, no matter who you vote for.

— Jme (@JmeBBK) May 18, 2017
"They" want the young people engaged in politics.
Let's take it a step further and not only engage, but be adult about it.

— Jme (@JmeBBK) May 18, 2017
Hear out both sides, accept when the person you don't fully agree with actually has a good point.
And not make memes / slogans slewing them

— Jme (@JmeBBK) May 18, 2017
Meanwhile, JME will be appearing at Boy Better Know's upcoming takeover of the London's O2 Arena on 27th August.
The first-of-its-kind event will feature a series of events including football, roller skating, music and more.