Jennifer Lopez Opens The 2015 AMAs With Epic Dance Medley
23 November 2015, 15:17 | Updated: 23 November 2015, 15:49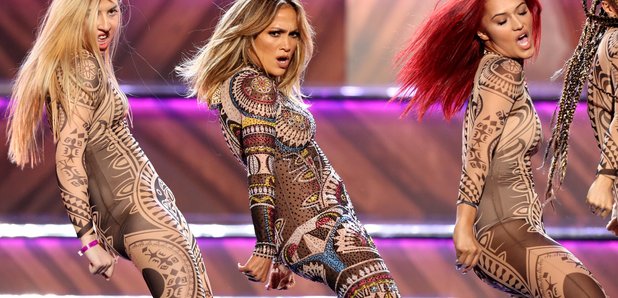 J. Lo hosted this year's awards.
Host Jennifer Lopez opened the 2015 AMAs with an epic choreographed medley of hit songs.
The singer began with a slowed-down orchestral performance of 'Waiting For Tonight' surrounded by candles and backing dancers.
"Tonight is not about me. Tonight is about the music," she said. "And this year's music made me want to dance."
She then launched into an energetic medley of 2015's biggest hits that transitioned from Mark Ronson's 'Uptown Funk' to Nicki Minaj's 'Anaconda', The Weeknd's 'Can't Feel My Face', Beyonce's '7/11', Drake's 'Hotline Bling' and more.
Watch below:
Lopez then slowed everything down for Ed Sheeran's 'Thinking Out Loud' with a male dancer, before picking up the pace for a dance-off with Chris Brown's 'Love More' and Justin Bieber's 'Where Are U Now?'.
The amazing performance was topped off with a group rendition of Rihanna's 'BBHMM'.
Meanwhile, after changing out over 10 times (yes - she found time for 10 outfit changes!), J.Lo headed to the show's after party where she bumped into ex boyfriend P Diddy.