Jazmine Sullivan feat. Ari Lennox 'On It' lyrics meaning revealed
28 June 2021, 17:47
What are the lyrics to Jazmine Sullivan feat. Ari Lennox's song 'On It'? What do they mean?
Jazmine Sullivan and Ari Lennox brought their racy track 'On It' to the stage at the BET Awards 2021.
The pair performed their collaborative Heaux Tales tracks, "Ari's Tale" and "On I." on Sunday night (June 27) at Microsoft Theater in Los Angeles.
The R&B queens rocked the stage and gained praise from fans on social media. However, fans did point out the lyrics to their sensual track "On It".
Here's a lyric meaning breakdown of the track, although it is quite self-explanatory.
"I need more than a text message/You gon' have to pull off somethin' impressive" - Ari Lennox
In this lyric, Ari Lennox demands that she needs more than just a text message from her partner. Specifically, she would like to be left impressed by her lover.
"Nothing's stoppin' you/Be the Nia to the hood Larenz Tate(Ooh)" - Ari Lennox & Jazmine Sullivan
In this lyrics, the pair are referencing the 1997 American romantic drama film 'Love Jones' – where Nia Long and Larenz Tate play love interests Nina and Darius.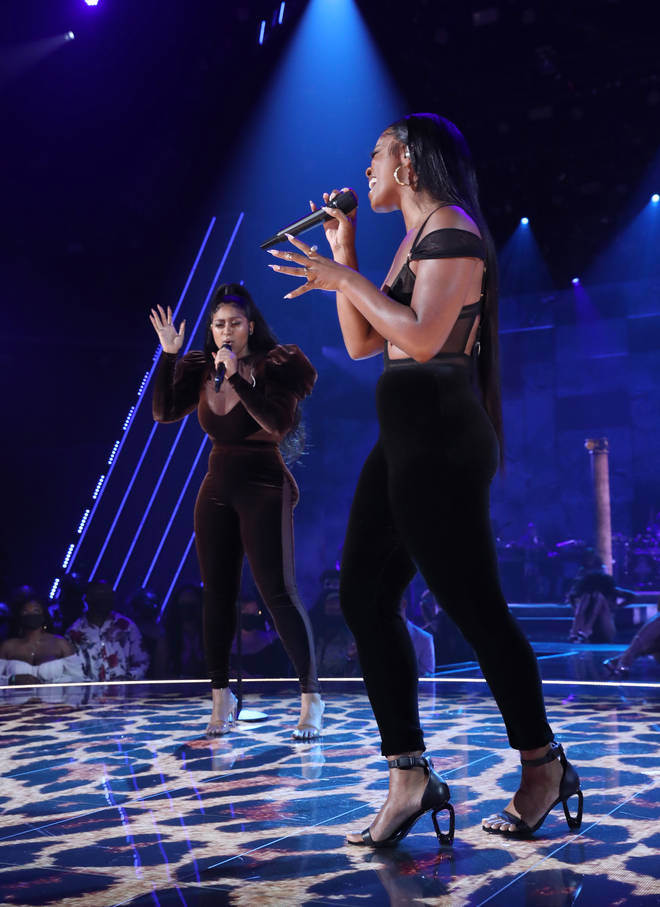 What are the lyrics to Jazmine Sullivan Ft. Ari Lennox 'On It'?

[Intro: Ari Lennox, Jazmine Sullivan, Ari Lennox & Jazmine Sullivan]
I (I), I, I


[Chorus: Ari Lennox, Jazmine Sullivan, Ari Lennox & Jazmine Sullivan]
I want to sit on it
So tell me why (Why) you deserve it
Come on and prove (Prove, prove)
Why I should move (Move, move)
Spit on it (Pur')


[Verse 1: Ari Lennox]
I need more than a text message
You gon' have to pull off somethin' impressive
Curves got you drivin' reckless
Take this water and hydrate, b**ch


[Chorus: Ari Lennox, Ari Lennox & Jazmine Sullivan]
I want to sit on it (Baby, baby, baby)
But tell me why (Why) you deserve it
Come on and prove (Come on and prove)
Why I should move
I, I, I'll spit on it, it (Yeah, yeah, yeah, yeah)


[Verse 2: Jazmine Sullivan]
'Cause I heard somе freaky sh*t 'bout you
So let me see what that mouth do
'Causе baby it's not that easy to please me
Yeah I'm needy, yeah I need more attention
With different positions (Oh, oh, oh)

[Chorus: Ari Lennox, Ari Lennox & Jazmine Sullivan]
I'll sit on it, yeah (Oh)
I want you to prove it (Oh, oh, oh)
Baby come on and prove (Come on and prove)
Why I should move
Baby look at me, baby I'll spit on it


[Verse 3: Ari Lennox & Jazmine Sullivan]
Uh, ah, hey
Say you one hell of a canoe
Got it wetter than the whole Chesapeake Bay
Nothing's stoppin' you
Be the Nia to the hood Larenz Tate(Ooh)
Dive in it (Ooh), take your time with it (Ooh)
Lil' bowlegged hood n**** with the nine inch (Ooh)
Put it in my face
Baby crash into these waves
Oh, oh-oh


[Chorus: Ari Lennox & Jazmine Sullivan, Jazmine Sullivan]
Let me sit on it, yeah
I want you to prove it (You deserve it)
Baby come on and prove (Come on and prove)
Why I should move
I want to spit on it

[Outro: Ari Lennox & Jazmine Sullivan]
Woo, ooh-ooh, ooh-ooh
Woo, ooh-ooh, ooh-ooh, ooh-ooh
Woo, ooh-ooh, ooh-ooh, woah-woah
Woah, woah
Woo, ooh-ooh, ooh-ooh (Ooh, ooh, ooh)
Woo, ooh-ooh, ooh-ooh (Ooh, ooh, ooh)
Woo, ooh-ooh, ooh-ooh (Ooh, ooh, ooh)