Jay Sean Exclusive: "I Had Talks With Skepta About Breaking The US"
14 April 2016, 10:47 | Updated: 14 April 2016, 16:46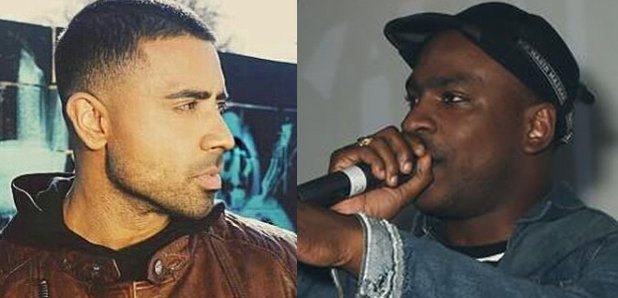 The 'Make Your Love Go' singer spoke exclusively to CapitalXTRA.com.
Following his huge success in the US, Jay Sean is back making waves in the UK with a huge new single called 'Make Your Love Go' featuring Sean Paul.
During his recent visit to the UK, he sat down exclusively with CapitalXTRA.com's Chris Wosu to breakdown his unique story.
How did your new single 'Make Your Love Go' come together?
I wrote this song about 8 months ago with the intention of making something sexy but makes you want to dance. Its fun. A little turn up tune. Something to play before going out. So that's why I came with the reggae dancehall influence on it because I felt like that was the perfect song for the mood I wanted to create.
It sounds really different to the R&B music you've been making recently. Was it a conscious decision to make something more Pop-influenced?
A lot of my biggest hits have been massively Pop – like 'Down', 'Do You Remember', '2012' – these were all massive Pop records. But when you get into that world its difficult to inject a little bit of soul and substance back into music because sometimes Pop changes. So for me, it was very important to keep my core sound together.
I feel like its personal to me as Jay Sean, instead of being just a generic R&B record that could be sung by anyone. I wanted it to have identity.
What was your transition to the US like? Being signed to Cash Money alongside the likes of Lil Wayne, Drake and Nicki Minaj must have been an experience...
I can't even explain to you how fun that was because there were so many mad experiences. Can you imagine me coming out of London, going out there and just hanging out with these New Orleans rappers – gang associated, hearing stories about Bloods and Crips, and I'm like what am I doing here?!
What was one of the craziest things to happen?
The culture clash was hilarious to me. I brought [Cash Money] out to England for the first time for my 'Down' video. They hadn't been out of America. We put them up at the Four Seasons hotel and they didn't leave because they saw the Police outside. But because the UK Police weren't dressed like their police, they thought they were in the hood!
They were like 'why y'all put us in the ghetto man. They got guns outside dog!'
You've obviously spent a lot of time around the Cash Money/Young Money family – did you ever bump into Drake?
I met Drake a number of times. I actually went to his listening party for 'Thank Me Later'. We had a lot of Grammy parties, where we would all be together – me, Nicki, Tyga, Lil Wayne, Drake at the same table, having jokes and drinking. It was a mad one!
Did you see the potential in Drake from early on?
Yes absolutely. I really did. From the first minute of his first album I was like this guy is going to go somewhere man. He's writing full songs, he's not just spitting bars - he's writing songs. That's a big difference. It's easier to identify with a whole song – and that's what he's managed to do. He's king of that, he gives you everything you want to hear.
Bringing it back to the UK, what's your opinion on the everything happening in Grime and UK Hip Hop right now?
I love it. It's exciting, it's fresh, it's organic. When I came up 13 years ago, the scene wasn't like how it is now. You try to say UK Hip Hop and they'd laugh at you. It was a very small world of British rappers that existed but now there's a ton of us.
There's a lot happening right now with Skepta, Stormzy, Krept & Konan and more. Do you you think they have the potential to replicate your success in the States?
I think so. America is really enjoying the uniqueness of what's going on in England, so I don't see a reason why some of our rappers can't go over there.
The accent used to be a big barrier. I kept it real with everyone - I had talks with Skepta about this and I was like sometimes they don't get it. They don't understand what [UK rappers] are talking about because I think Hip Hop is a very different thing to singing.
You're repping your ends when you're talking about stuff that's real - and if they don't understand that scene and your world, how can they identify with it?
It used to be an obstacle but now I think a lot of the rappers are coming out with songs that anyone can identify with and I think that can work.
What would be your advice for UK artists trying to take their sound international?
Stay true to yourself and know who you are as an artist and to not dilute that, because you can get lost. There's a reason why people want to follow your music and it's because you stand for something - Stormzy stands for Stormzy, Skepta stands for Skepta, Chip stands for Chip…
The minute you start watering yourself down, you're not you anymore. You lose identity – and that's what people want to follow. They want identity.
What's next for you?
For the whole year to come, I just want to hit you guys with tune after tune. I've been sitting on a lot of music, just waiting on this moment where I can come back and hit you guys with the stuff I've been working on. You guys are going to be pleasantly surprised.
Is there a new Jay Sean album coming this year?
I can't say for sure whether its an album or not. I don't know what the model will be. I might just drop 10 songs on a Monday or I might drop 6 songs across a week. I don't know yet because its open format right now.
I'm looking up to people like Drake. He's a visionary! He just gave us three songs last week and the whole world is going crazy. They are chasing him.
Listen to Manny Norte's interview with Jay Sean below: