Jay London's documentary 'SEVEN': about, artists featured, how to watch & more
8 December 2020, 16:46 | Updated: 8 December 2020, 16:53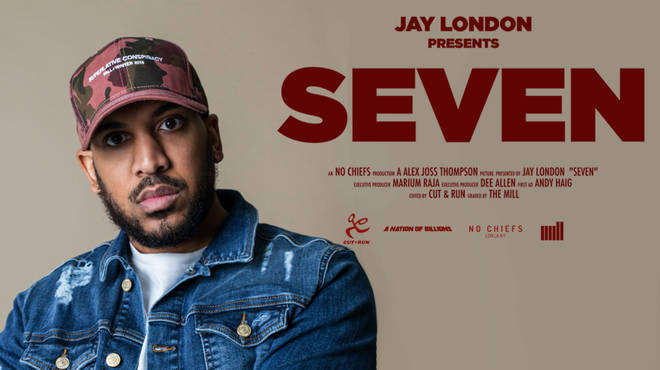 Capital XTRA's very own Jay London has produced a docu-series 'SEVEN' – giving an in-depth insight to seven UK artists lives.
Broadcaster, journalist and Capital XTRA's very own presenter, Jay London, has created a new documentary titled 'SEVEN', shining a light on talented upcoming and underground artists.
While Jay London is constantly inspired by the music scene and those within it, the docu-series focusses on seven unique journeys, through the lives of seven artists from the UK.
Find out more about Jay London's documentary-series 'SEVEN' below.
What is SEVEN about?

SEVEN is a brand new docu-series on Nation of Billions showcasing the lives and journeys of seven artists from the UK.

Each episode will delve into the lives and experiences of the artist it focussed on.

Jay London will be hosting the docu-series for seven weeks, sharing what a day in the life of the U.K artists looks like.

'SEVEN' gives insight to the artists lives, their craft and their journeys.

The series touches on serious topics such as tackling depression, being raised in a single parent home and the dangers of social media.

It sheds a light on the artists in a way you haven't seen them before. #SEVEN

This weeks episode

Miraa May

In the latest episode of SEVEN, Jay London spends time with R&B songstress Miraa May.

The North London star let's Jay into her life, delving into her Algerian roots and growing up in London.

She also details the beginning of her career and opens up about becoming a new mum while trying to pursue a music career. Watch below.

Which artists will feature in 'SEVEN'?

Episode 1: Grace Carter

In the first episode of SEVEN, singer-songwriter Grace Carter opens up about her experience with being raised in a single-parent household.

The North-West London star also discussed what it was like feeling neglected by her father.

Carter also reveals what inspires her soulful sound and what led her to pursue her career.

Episode 2: Samm Henshaw

Jay London uncovers the reasons why Samm Henshaw, has become more popular in the U.S, than the U.K.

Spending a whole day with Henshaw, they travelled going to places which had significant value through memories for him.

Henshaw and Jay London discuss family, being black in the UK and the impact of having a strong sense of community.

Episode 3: Alicai Harley

Jay London describes Alicia Harley as one of the upbeat people he has ever met in the industry.

However, while she has her fun side, the star has opened up about the struggles and battles she has faced.

The Jamaican, Dancehall infused artist opens up about her depression as a child.

She reveals what spurred on the depression and details how she felt about a significant loss that led her to become the artist.

Episode 4: Geovarn

During this episode, Jay London discovers what inspires the creativity behind Geovarn's music.

Exploring the early beginnings of his career, Geovarn details starting out as an MC and rapping, to later exploring with different sounds.

The North London bred artists' latest mixtape Mean brought in over two million streams, featuring tracks such as "Yes" and "Good Thing".

Upcoming episodes

The series will also feature other exciting U.K artists such as Geovarn and Young T & Bugsey.

How to watch 'SEVEN'

SEVEN is available to watch on Nation of Billions YouTube. The episodes are released every Sunday at 3pm.

Keep up with all things 'SEVEN' by following Jay London on all socials @jaylondon.

If you want to show love and support the documentary, you can use the hashtag #SEVENTHEDOCUMENTARY and let us know your thoughts.