Janet Jackson Fans Are Furious That Justin Timberlake Is The Super Bowl Headline Act
23 October 2017, 10:47 | Updated: 23 October 2017, 10:50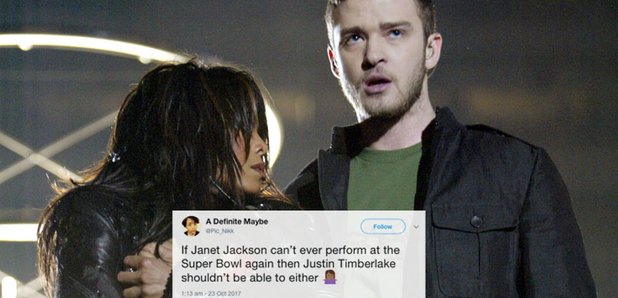 Supporters took to Twitter in outrage.
Justin Timberlake has been announced as the headline act for the 2018 Super Bowl half-time show in February.
And while fans of the 'Mirrors' singer are rejoicing at the news, supporters of Janet Jackson have been left reeling.
Timberlake's upcoming performance will mark 14 years since the duo's infamous 'wardrobe malfunction' at the 2004 show, which saw Timberlake expose Jackson's bare chest live on air.
The incident resulted in Janet being heavily fined and blacklisted from the NFL, banning her from any performances in the future.
After former *NSYNC member Timberlake was announced as next year's headliner, users slammed the organisation for their use of 'double standards'.
Why is Justin Timberlake being invited to perform again when Janet Jackson is banned for life for something that was entirely his fault pic.twitter.com/5btOvDZDKq

— Oak•LAD•GSW (@legendary_hoe) 23 October 2017
Justin Timberlake officially doing Super Bowl halftime. Dream setlist:

- "Lovestoned"
- 9-minute Janet Jackson apology
- "Gone" (w/ *NSYNC)

— Jason Lipshutz (@jasonlipshutz) 23 October 2017
I've nothing against Justin Timberlake, but he's the one that caused Janet Jackson's wardrobe malfunction. Why is she stilled banned?

— I SOB NFL Players (@ShomahKhoobi) 23 October 2017
If Janet Jackson can't ever perform at the Super Bowl again then Justin Timberlake shouldn't be able to either

— A Definite Maybe (@Pic_Nikk) 23 October 2017
Maybe not the best year to serve up more White/Black Double Standard and invite Justin Timberlake to Super Bowl while Janet Jackson's banned pic.twitter.com/nHmFWQuJ4V

— Mrs. Betty Bowers (@BettyBowers) 23 October 2017
The fact that Janet Jackson is STILL banned for something Justin Timberlake did, yet he's not infuriates me #whiteprivilege at it's finest

— Don't wanna hear it (@willajbabe1989) 23 October 2017
This will mark Timberlake's third time performing on the Super Bowl Halftime stage, making him the artist with the most appearances by an individual entertainer.
The most-watched musical event of the year, the Super Bowl has played host an esteemed list of halftime acts including Beyonce, Lady Gaga, Prince, Bruno Mars and more.