Watch James Corden Try To Sell Tyga A Million Dollar Property In Hilarious Skit
1 March 2016, 17:18 | Updated: 13 April 2016, 16:35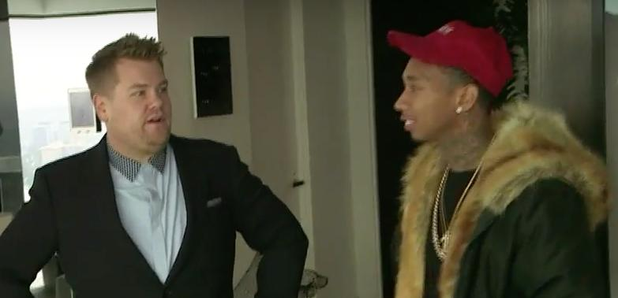 Plus Tyga drops a freestyle about the house!
Tyga is the latest famous face to join James Corden in a hilarious skit for his 'The Late Late Show' in the US.
The chat show host, who moved to LA last year, attempts to help Tyga find a new home with the help of James Harris and David Parnes – stars of TV show 'Million Dollar Listing'.
Corden encourages Parnes to take a break from his usual job and takes over with hilarious consequences.
Watch below:
James Corden shows the rapper and his entourage around the $20m property, while pointing out 'vital' parts of the house such as the washer and dryer.
Tyga also drops a quick freestyle, while in the shower with Corden. "$20m views, massive rooms, massive suit," he raps over a beat box.
Meanwhile, Corden was also recently joined by Adele for Carpool Karaoke – where she rapped along to Nicki Minaj's iconic verse on Kanye West's 'Monster'.
Last year he was also joined by A$AP Rocky , Jennifer Hudson, Iggy Azalea , Stevie Wonder for the same skit.