James Corden Throws Shade In Hilarious 'Drop The Mic' Rap Battle With Riz Ahmed - WATCH
19 April 2017, 14:20 | Updated: 19 April 2017, 14:33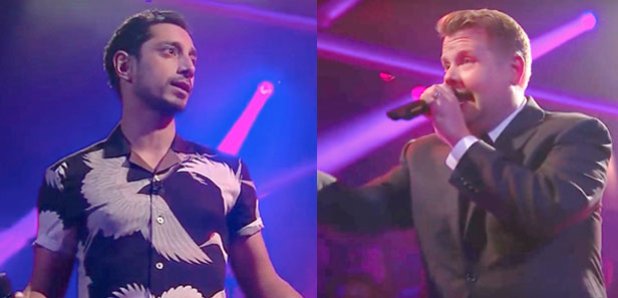 This is too good.
James Corden has taken on British actor and rapper Riz Ahmed in his latest instalment of 'Drop The Mic'.
The talk show host battled it out with the 'Rogue One' star during a lyrical spat on his US late-night show and the outcome was truly brilliant.
"I speak the truth, you're a liar," Ahmed spits in the video, "He's like Sean Spicer mixed with a singing Uber driver."
"I know ruining a 'Star Wars' is seen as unlawful," Corden raps in retaliation, "But here's a Rogue One spoiler - in it, he's awful."
Watch the video below:
The star-studded 'Drop The Mic' segment, which has previously featured Usain Bolt, Cara Delevingne and Dave Franco, is set to become its own standalone TV series later this year.
The series already runs alongside Corden's equally popular 'Carpool Karaoke' feature.
Ahmed, who also features in the popular Netflix series 'The OA' and US sitcom 'Girls', took to Instagram to thank the comedian for having him on the show.
In addition to acting, Ahmed is also a seasoned rapper and musician, having previously released critically acclaimed albums as part of the 'Swet Shop Boys' Hip-Hop duo.
Riz recently featured on the 'The Hamilton Mixtape', which topped the Billboard 200 chart.