Jake Paul Vs Tyron Woodley boxing match fight: date, location, tickets & more
3 June 2021, 14:07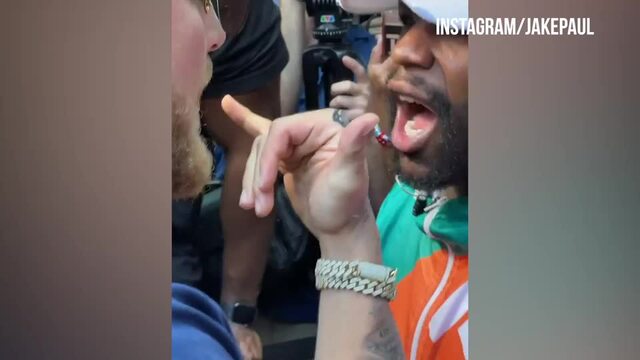 Jake Paul steals Floyd Mayweather's hat causing a mass brawl
The highly-anticipated boxing match between the pair will take place later this summer. Here's what we know about the fight so far.
Jake Paul's fourth professional boxing venture will be against MMA star, former UFC welterweight champion, Tyson Woodley.
Fans were excited when rumours of the fight taking place circulated on social media on Monday.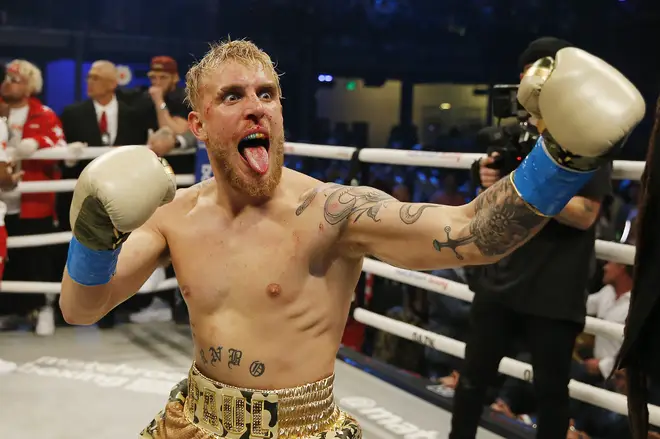 The fight was then confirmed on Tuesday (Jun 1) as both boxers have agreed to hit the boxing ring.
Paul knocked out an MMA fighter in his last fight back in April in the form of grappling specialist Ben Askren.
The 24-year-old YouTuber-turned-boxer will face Woodley in an attempt to have 4-0 wins under his belt since his fights with; Askren, ex-NBA player Nate Robinson and fellow YouTube star AnEsonGib.
Woodley, 39, won the UFC welterweight belt in 2016 but lost his last four Octagon fights.
So, what do we know about the Jake Paul Vs Tyron Woodley fight so far?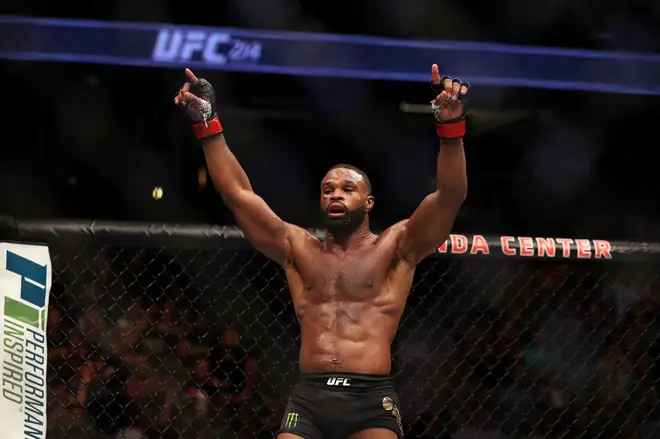 When is the fight taking place?

It has been announced that the Jake Paul and Tyron Woodley fight will take place on Saturday August 28.

Jake Paul shared a poster of the pairs fight, announcing the date, while trolling Woodley, claiming he will get knocked out.

However, Woodley seems to not be phased by the internet trolling, as he knows he is securing the bag before he even steps foot in the ring.

Woodley's manager, Malki Kawa has revealed how the deal for the ex-UFC star to face the YouTuber was made.

Kawa told MMAFighting: "[Woodley]'s getting paid really well. It's one of the best deals I've ever done."

"For a guy in his situation, it was a tremendous deal. He's getting a large base number. He's getting a cut of the pay-per-view globally."

"He's participating in a lot of different things. He should walk away with a multi-million dollar payday."

"His base guarantee is in the millions already. Add on all the extra stuff, it's a really nice payday."

"We just got to a point where we felt comfortable with it and Jake is probably making the lion's share of the money, which he is, but nonetheless Tyron, this is a real good day for him." he added.

Where will the fight take place?

The fight will take place in Miami, however the specific venue has not yet been announced.

More details on the fight are set to be announced later this week with a press conference that will feature Paul and Woodley facing off for the first time.

A location for the fight will also be announced at that time.

Where can I find tickets to the fight?

As for now, fans are not able to buy tickets for the fight as it has only just been announced.

This will be updated with information, when it becomes available.

Jake Paul taunts Floyd Mayweather with 'gotcha hat' tattoo following their mass brawl

Where can I watch the fight/?

The fight will be available on pay-per-view (PPV).

It has been revealed that Showtime will be charging fans to watch the fight.

When Paul fought Ben Askren the PPV price was $49.99 (£35.37) on Triller pay-per-view and we are expecting a similar price for the upcoming bout. However, the prices have not been readily made available as of yet.

Jake Paul recently signed a multi-fight deal with Showtime who host Showtime Championship Boxing.