Cardi B Responded To Those Pregnancy Rumours In The Most Cardi B Way Possible
5 February 2018, 12:28 | Updated: 10 April 2018, 14:56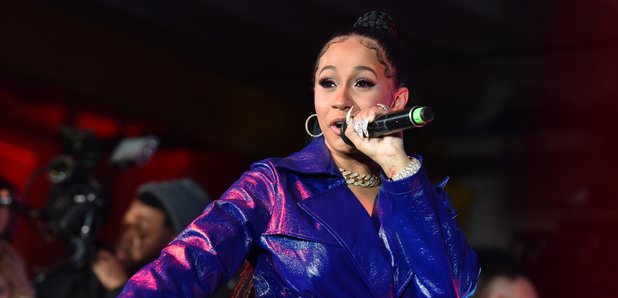 Trust Bardi to keep it real.
Following the long-awaited announcement of Kylie Jenner's baby arrival, it appears Cardi B is fighting off her own pregnancy rumours.
The 'Bartier Cardi' rapper clapped back at a fan this weekend who suggested that she may be hiding her own baby-related secret.
Cardi posted a video on her Instagram page showing her dancing and miming over an upcoming remix she's featured on.
However, some fans couldn't help but speculate, with one fan wearing in the comments, "Is there maybe a Kylie Jenner secret that we need to know?" underneath the video.
However, in true Cardi style, the rapper took it upon herself to shut down the rumour.
"No b*tch I'm just getting fat." she stated, before adding, "Let me fat in peace."
Relatable.
"let me fat in peace" lmfaoo
i love Cardi B pic.twitter.com/ePTr7CVt2l

— pxfitness® (@tbrownmedia) 3 February 2018
The rapper, who got engaged to Migos rapper Offset at the end of last year, addressed the nature of the celebrity rumour mill on the Grammy red carpet last week.
"So it's just like, if ya'll wanna know, ask me, I'll tell ya," she said after an E! presenter said somebody is always saying that she's pregnant every two weeks.
"I've been trying to get away from gossip sites," Cardi added, "It's been OK. I haven't replied back to no bad comments like in five days."
Cardi and her rapper beau recently revealed that they were postponing their wedding plans due to their hectic work schedules.