The 'Invisible Box' Challenge Is The Latest Viral Internet Craze
4 December 2017, 16:54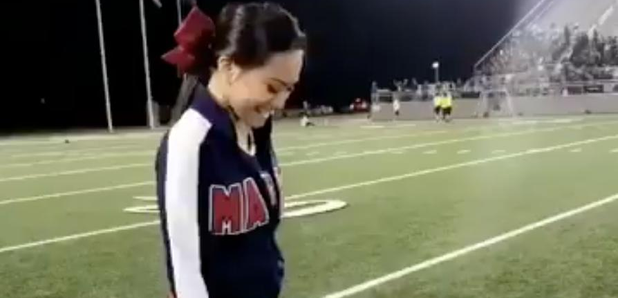 See all of the best "invisible box" challenges below..
The latest bizarre viral craze taking over social media in 2017 is the "invisible box" challenge.
The viral sensation is based on the premise of trying to replicate a viral video by an American cheerleader, showing her appearing to jump over an imaginary obstacle.
challenge accepted pic.twitter.com/QQ1JWbkXx0

— ariel (@arielo1220) December 2, 2017
The challenge has inspired some of the best funniest videos of 2017 so far, with people from all around the world getting involved in the action.
How to do I do invisible box challenge?
To take part in the viral challenge, tap on the surface on an imaginary box before placing your foot on the top of it and swinging your leg over it, in a jumping motion.
Check out some of the best "invisible box" challenges below:
#invisibleboxchallenge #readysetgo pic.twitter.com/OXtqh7Luku

— teedoe (@thecvmevp) December 3, 2017
#invisibleboxchallenge
I tried... pic.twitter.com/04rB7dvnqF

— scott (@ScottMcMillan14) December 4, 2017
#invisibleboxchallenge
RETWEET!!! Tag @shmateo__ @shortdancevids @OgLeloo @dubsmash #datway @iCare_No @AspectZavi_ COMMENT LIKE pic.twitter.com/U54OqXO9Ky

— KiiTheDancer (@ModernKii3) January 18, 2017
Gang pic.twitter.com/YwiLaALW34

— cracky raps (@crackyraps) December 3, 2017
Invisible box challenge pic.twitter.com/7io1tW6hwC

— Tayleigh :) (@tayleigh_28) December 4, 2017
2017 has been home to some amazing viral crazes so far including the recent "For the p*ssy/d*ck" challenge" and Bella Hadid's 'homeboy' sneaker shopping meme.