Idris Elba & Stefflon Don Grill Each Other During Beer Pong At Wireless 2019 - WATCH
7 July 2019, 16:03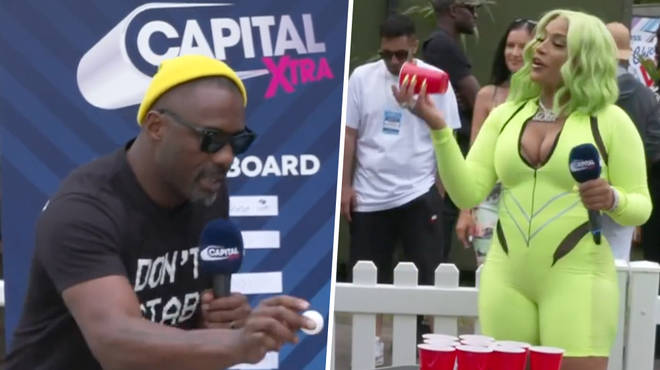 Idris Elba and Stefflon Don played a fun and challenging game of Beer Pong at Wireless 2019. Presenters Yinka and Shayna Marie hosted the game.
Idris Elba and Stefflon Don went head to head in a fun game of beer pong on Saturday (Jul 6th) at Wireless 2019. The game was lead by Capital Xtra's very own presenters Yinka Bokinni and Shayna Marie.
The Hollywood actor and the U.K rapper were up for the challenge and both had a competitive spirit. Idris and Stefflon were opposing each other and were based at both side of an 8 foot long beer pong table.
Beer Pong
The aim of the game is to land the pong ball into the cup on the opposing side of the table. Underneath each cup, there is a number, which will be specific question on the que card.
Presenters Yinka or Shayna would read out out the question and Idris or Stefflon Don would answer, depending on who got the ball in the cup.
The game is a fun way to learn more about the artists, from finding out their answers to the questions asked.
Although both Idris and Steff were trying to get the ball into the cups, the challenge proved to be quite hard. They both cheekily cheated and hilariously found ways of getting the ball into the cups.
At one point, Steff slam dunks the ball into one of Idris cups as if she was playing basketball.
Wireless Performance
Idris Elba and Stefflon Don also blew the crowd away earlier when performed "Boasty" which they feature on, along with Sean Paul and Wiley.
Idris came out during Stefflon Don's main stage performance, where she also performed 16 Shots, Phone Down, Pretty Girl and Hurtin' Me.
Watch the video above to see Idris Elba and Stefflon Don play Beer Pong at Wireless 2019.