H&M Shuts Down All South African Stores After Violent Protests Over 'Racist' Hoodie
15 January 2018, 10:30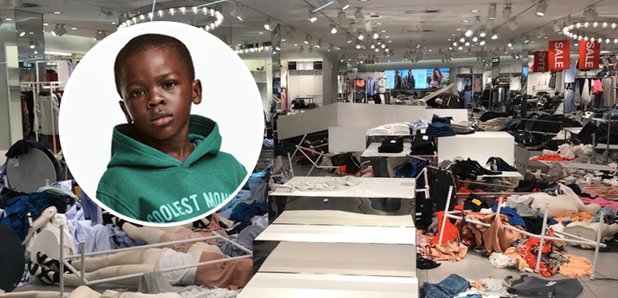 Activist have been angered by a child's hoodie made by the company that read "Coolest monkey in the jungle".
H&M has temporarily closed all of its stores in South Africa following a series of violent protests in response to the brand's controversial "monkey" hoodie.
Protesters from the left-wing Economic Freedom Fighters (EFF) group targeted six shops in Gauteng province, police say.
Videos and images circulating online show the ransacked stores and rails were pushed over and mannequins thrown to the floor.
"Protesters" in South Africa destroyed an H&M store over that hoodie we talked about this week. pic.twitter.com/17XY36jpuN

— Philip DeVeryStableGenius (@PhillyD) 13 January 2018
In one location, rubber bullets were fired to disperse demonstrators, and while officers are monitoring the situation, they said they had not made any arrests so far.
The controversy was sparked after H&M published an image of a black child modelling a hoodie with a slogan that read "Coolest monkey in the jungle".
CNN reports that H&M has 17 locations in South Africa, with the company saying in a press release: "We continue to monitor the situation closely and will open the stores as soon as the situation is safe again."
ABCNEWS reports Members of a South African opposition party stormed into some H&M stores across the country in protest of a controversial promotional image posted to the company's website recently. https://t.co/COr5jzZyQI pic.twitter.com/SgD24gUQ2x https://t.co/hkDgQ88kko

— Channel1 America (@channel1america) 15 January 2018
@EFFSouthAfrica Western Has taken Racism protest right at the doorstep of H&M at V&A Waterfront. pic.twitter.com/IhxZ6teRTL

— #WesternCapeHomeOfEFF (@MTshwaku) 13 January 2018
Public outcry ensued across social media as people slammed the company for the 'racist' advert, while various celebrities also denounced the brand.
The Weeknd and G-Eazy both publicly pulled their collaborations with the brand, while P Diddy offered the child in the advert a million-dollar modelling contract.
In response to the backlash, H&M issued an apology on its local website, saying: "Our position is simple: we have got this wrong and we are deeply sorry."