Here's What Was Inside Each $30,000 Gift Bag From The Grammy Awards
30 January 2018, 11:54 | Updated: 30 January 2018, 12:51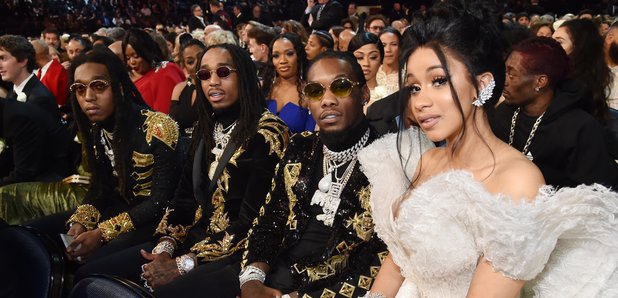 This swag bag is insane.
The 60th Annual Grammy Awards are officially done and dusted.
And as the stars recover from a long week of pre-Grammy brunching and late night partying, it's more than likely that they're doing it in style.
Thanks to the lavish goody bags handed out at the prestigious Madison Square Garden ceremony this year, Beyoncé, Rihanna, Kendrick and co are set to be receiving the very best in VIP treatments.
Because inside each gift bag contains $30,000 worth of spa retreats, designer jewellery, gift cards for gourmet restaurants, private mixology classes, first class airport services, beauty products - even a circus training lesson.
According to Harper's Bazaar, each bag was curated by LA-based marketing company Distinctive Assets, who opened a gift lounge at the NYC venue during the three day rehearsal period.
"It is an honor for any artist to be asked to be part of music's biggest night, and that honor is no less significant for Grammy partners like us," Distinctive Assets' founder, Lash Fary, said.
"We are so proud to help celebrate 60 amazing years of Grammy magic with our signature backstage gift lounge."
So, what was in the luxurious bags of swag, then? Deep breath...
Experiences
A week at the Golden Door spa in California
Family circus training from Le Petit Cirque
Private mixology class from Liquor Lab in New York City

A psychic reading over the phone from Go Beyond Here

A 90-minute professional Teleprompter training session from Sena-Series Media Training
Beauty & Skincare
Health & Body
Ear cleaning device from Clear Ear
Pinhole gum rejuvenation treatment by Dr. John Chao
Weight loss supplements from Hydroxycut Organic

Sea salt soap from Salt & Stone Soap Company

A plant from GoodKarms

A handheld steam inhaler from mypurmist Free

Nutritional supplements to protect hearing from Soundbites

A wellness box from The Lucky Box Club
F
ood & Drink
Style
Customizable handbag straps from Carrie'd NYC
A Cotton Canary "Live Uncaged" t-shirt
A handbag poncho from Dear Rain
Faux fur slap bracelets with #BuyACoatSaveAPuppy on it from

Maison Atia

Materials from Thankful, a website that promotes gratitude

Jewellery from The Giving Keys
Books
Other
Oh, how the A-List live...