Gigi and Bella Hadid Leave Fans Uncomfortable With "Disturbing" Naked Photoshoot
30 January 2018, 10:35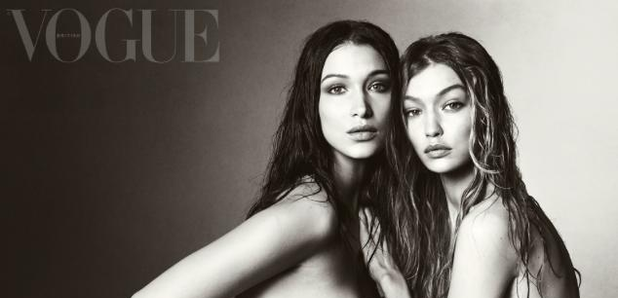 Vogue have been accused of "crossing a borderline" with their latest cover.
Gigi and Bella Hadid have posed together for the March cover of British Vogue, but it's received some negative feedback.
The supermodel siblings, referred to by the publication as the fashion industry's most in-demand sisters, can be seen intertwined intimately in the image, completely naked.
While the sisters undeniably look beautiful, fans of the magazine claim that the image - in which Gigi rests her hand on Bella's chest while Bella's is on Gigi's leg - made them "uncomfortable".
As the fashion industry's most in-demand sisters, we're more familiar seeing @gigihadid and @bellahadid apart than together. However, the sisters unite for the March 2018 issue of #NewVogue, on newsstands February 2. Photographed by #StevenMeisel, styled by #JoeMcKenna pic.twitter.com/kFRFDKBtDy

— British Vogue (@BritishVogue) 30 January 2018
deffo crossing a borderline there....

— April Jackson (@aprilroseo) 30 January 2018
This is awful. Shame on you British Vogue.

— Alice Rose Bowmer (@alicerosebowmer) 30 January 2018
gross that their faces were photoshopped to this extent. super gross that two siblings were asked to pose like this.

— juwayriyya (@mutantpasta) 30 January 2018
Why are they naked though? Where is the fashion?

— Rachael Lonergan (@RachaelHasIdeas) 30 January 2018
Must you fetishise them? Talented women. No need to be naked to pique our interest.

— Sarah Southern (@sarahsouthern) 30 January 2018
Many suggested that the controversial image was taken purely to drive publicity to the magazine, while others complained that the photo was "inappropriate".
The image was also posted on the official Instagram page of British Vogue, where some commenters branded the image as "incest".
"This is horrible and incest. It's not art or fashion." wrote one fan.
"This feels inappropriate ... like they wanted to push the boundaries and get everyone talking." suggested another.
"Tasteless! I'm disappointed. It seems absurd and disturbing." said one user, while another added "Why do women still have to this? And these are even sisters! Very disturbing."
In addition to the joint cover, both Gigi and Bella appeared on their own solo covers for the issue.
The daughters of Yolanda and Mohamed Hadid can be seen wearing the same gold metallic dress in the images, which are set to feature on the Spring Fashion issue.
gigi and bella hadid for british vogue march 2018 pic.twitter.com/2WIoTXQFSw

— an angel (@pradasfairy) 29 January 2018
However, fans soon took to social media to slam the publication by accusing them of over-Photoshopping Bella's face.
"Bella doesn't even look like herself lol" wrote one user of The Weeknd's ex-girlfriend.
Did Bella get more work done or is it photoshop? Doesn't even look like her. https://t.co/KJNnddf7Gs

— Xasha (@XashaSuree) 30 January 2018
they ruined bella's face with photoshop https://t.co/NkzKCBqFY5

— (@90210andthecity) 30 January 2018
Too much Photoshop! Bella looks weird

— ERIKA (@ErikaStinkyP) 29 January 2018
Both British Vogue and the Hadid sisters are yet to comment on the controversy.