Everyone Is Doing The #GetOutChallenge And The Results Are Truly Hilarious
14 March 2017, 11:07 | Updated: 14 March 2017, 11:39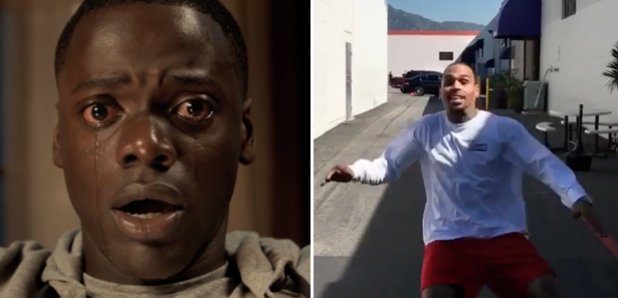 It's the latest viral Internet craze.
The #GetOutChallenge is the latest viral Internet meme to sweep social media and people are going crazy for it.
Inspired by Jordan Peele's new satirical horror movie 'Get Out', the challenge has got people going to great lengths to recreate an iconic scene from the film's trailer.
The psychological thriller, starring Daniel Kaluuya, is making huge waves across social media thanks to it's inspiring social commentary and unique cultural message.
And it's got some seriously glowing reviews; Chance The Rapper was such a fan, he rented out a whole cinema for an entire day so his fans could watch it!
The meme originates from a moment in the trailer where a character runs directly towards the camera, before turning sharply at the last minute.
And of course, people wanted to get involved.
Chris Brown had a go at the challenge.
It's taking Twitter and Instagram by storm.
#GetOutChallenge the real one!
Behind the scenes ft. @gmccoy24 and @jarehn_white23 pic.twitter.com/sGDNoPwkWU

— Alan Hodge (@AlanHodgeJr) March 7, 2017
And we can't stop watching.
#GetOutChallenge lmfaoo pic.twitter.com/6aF2jiUS5W

— WSHH VIDS (@WSHHVlDS) March 5, 2017
People tried...
And people failed.
#GetOutChallenge fail pic.twitter.com/Pp5DGpq9Ri

— BOYwonder (@TyreseWebb1) March 7, 2017
Some were experimental...
When her white parents come home #getoutchallenge pic.twitter.com/qQRWFXzqvx

— Getoutchallenge (@getoutchallenge) March 9, 2017
Whilst others were just hilarious.
Kinda late but ...
#GetOutChallenge pic.twitter.com/QK4raLI390

— poppin . (@WestAfricanaa_) March 14, 2017
But this one is obviously the true winner.
#GetOutChallenge fail pic.twitter.com/h3GDGTQDvh

— Winston (@winnythecorgi) March 11, 2017
Will you be giving the #GetOutChallenge a go?
'Get Out' is released in the UK on Friday 17th March.