Watch Chilling Footage Of Christina Aguilera's Duet With Whitney Houston Hologram
21 May 2016, 13:04 | Updated: 24 May 2016, 09:24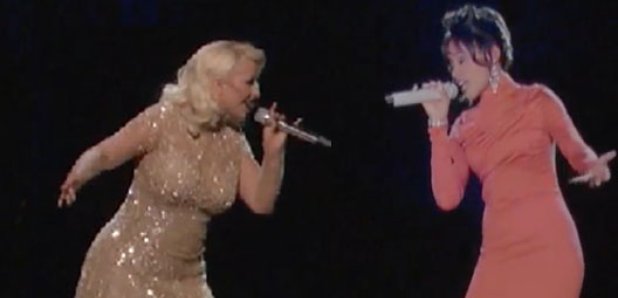 The footage was set to appear on The Voice US.
Following lots of rumours, footage has appeared online showing Christina Aguilera performing alongside a hologram of the late Whitney Houston.
The eerie footage, which was set to be aired on the finale of The Voice US, shows Aguilera singing Houston's hit single 'I Have Nothing', before the hologram appears on stage.
"Ladies and gentlemen, Whitney Houston," says Aguilera before launching into a duet with late singer.
Watch the chilling footage below:
The camera focuses on the pair as Houston twirls into a red gown like a scene from Cinderella, before they start singing Houston's other hit single 'I'm Every Woman'.
Despite the performance appearing to be shot and edited, it has now been cancelled according to reports.
"Holograms are new technology that take time to perfect, and we believe with artists of this iconic caliber, it must be perfect," said Pat Houston, the executor of Houston's estate, in a statement.
"Whitney's legacy and her devoted fans deserve perfection. After closely viewing the performance, we decided the hologram was not ready to air.
"We have much respect and appreciation for Christina, and she was absolutely flawless."
Whitney Houston tragically passed away in 2012, at the age of 48.