#FlotusBars Is The Greatest Thing You'll See Today
11 December 2015, 11:05 | Updated: 11 December 2015, 11:17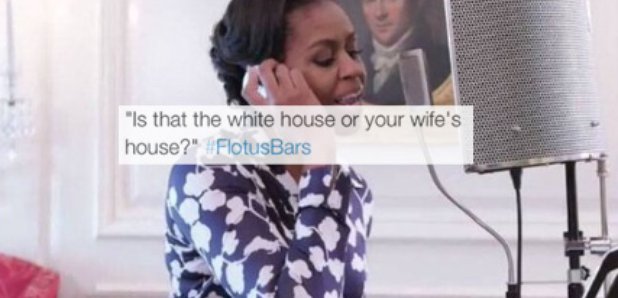 Twitter has ghostwritten new lyrics for FLOTUS.
First Lady Of The US, Michelle Obama recently collaborated with Saturday Night Live's Jay Pharoah to make a hilarious rap video about the importance of staying in education.
In the video, Obama showed off her rapping skills, delivering a rap verse of her own:
"Southside Chicago/ We all know/ We had to do overtime every night to make it tomorrow," she rapped.
"And everyone could really make their dream true/ Hey kid, listenin' in Michigan, that could be you."
Following her lyrics, Twitter has come up with more raps for the First Lady using the hashtag #FlotusBars.
Some people have been inspired by Drake's 'Back To Back':
Michelle got that heat pic.twitter.com/PJexByHZDP

— All Def Digital (@AllDefDigital) December 10, 2015
"We got that second term, we going back to back. I'm making kids eat healthy, now it's back to that." #FLOTUSbars pic.twitter.com/Q9itsPN28M

— X (@XLNB) December 10, 2015
While this person channelled her inner 'Hotline Bling':
You used to call me on the red phone Late night when you need my advice Call me on the red phone #FlotusBars pic.twitter.com/cwLCQd1h1P

— deray mckesson (@deray) December 10, 2015
Is this the start of a Donald Trump diss track?:
Trumpman Trumpman Trumpman that boy up to something His hairline just spent 2 or 3 weeks out the country #FlotusBars pic.twitter.com/KDdeniK8vT

— R. (@Rvmonstvr) December 10, 2015
This was clever use of Kanye West's 'Can't Tell Me Nothing':
"Excuse me, was you saying somethin?? Uh uh, can't tell me nothin." #FlotusBars pic.twitter.com/5OjDdotJDl

— Heben Nigatu (@heavenrants) December 10, 2015
And this person managed to plug her 'Let's Move' campaign:
Yo, it's ya First Lady on the mic/ Making sure all kids in school be eatin' right. #FlotusBars pic.twitter.com/c3XEZAIZJn

— AshB (@Hey_AshB) December 10, 2015
While this person included a brag about her education:
"I stay stylin on'em, my degrees? They on fleek, betta pull a Gwen Stefani in my presence "Dont Speak" #FLOTUSBars pic.twitter.com/N99xQMAUZA

— Elon James White (@elonjames) December 10, 2015
A modern take on an old classic:
"I, mama, Mrs. Obama Usually rock the Prada, Sometimes Gabana" #FlotusBars pic.twitter.com/yBHT8JPsTg

— Zora Kneel Hurtsome (@FeministaJones) December 10, 2015
This is a quick shout out to her haters:
"Who you know better than Barack, riddle me that? You conservatives know where to find me at." #FlotusBars pic.twitter.com/7rJ8pqb339

— JT (@realifejosh) December 10, 2015
We think Barack would be impressed:
when you're bragging to your boys at the barbershop that your lady's mixtape is fire #FlotusBars pic.twitter.com/Bt7XOea7ku

— BILL_NYE_THO (@Bill_Nye_Tho__) December 10, 2015