Fetty Wap Surprises Remy Boy Monty With Brand New BMW i8 For Christmas
28 December 2015, 12:58 | Updated: 25 January 2016, 15:52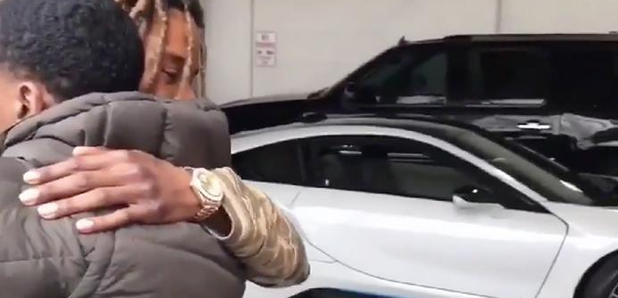 The Remy Boyz celebrated Christmas in style.
Following his incredible year, Fetty Wap has gifted his close friend and fellow Remy Boy, Monty, with a brand new BMW i8 for Christmas.
The pair shared a heartfelt hug after Fetty handed over the keys to the white BMW, which costs upwards of £100,000.
"I love you my n***a," he told Monty.
Watch the emotional moment below:
"Back to back in Beamers!! One of my best gifts ever. Thanks bro," said Monty, who appeared on some of Fetty's biggest hits '679' and 'My Way'.
Meanwhile, Fetty also wrote a heartfelt letter to his fans, thanking them for all of their support in 2015.
"Hope every one enjoyed Christmas, he said.
"I just wanna say thank ya'll for making this my kids best Christmas they probably won't remember lol but I made sure they were able to get everything they wanted and needed love ya'll," said the rapper on Instagram.