Erykah Badu Faces Online Backlash After Claiming She "Saw Something Good In Hitler"
25 January 2018, 14:04 | Updated: 25 January 2018, 14:05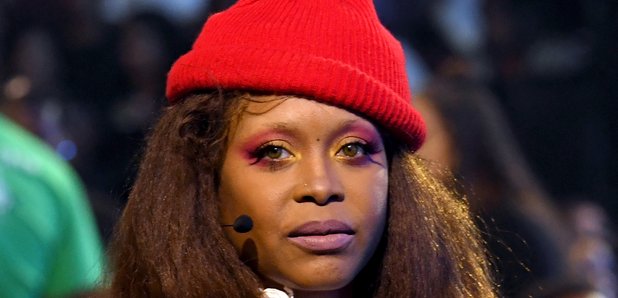 Erykah is under fire!
Erykah Badu is facing a huge social media backlash after she claimed she "saw something good in Hitler."
The R&B singer, who is known for her uncompromising music and personality, made the controversial comments in a new interview with Vulture.
"I don't even know what anti-Semitic was before I was called it. I'm a humanist. I see good in everybody. I saw something good in Hitler," she said during the lengthy interview with the publication.
When asked to clarify her surprising statements, she said: "Yeah, I did. Hitler was a wonderful painter."
She continued: "Why can't I say what I'm saying? Because he did such terrible things?
"You asked me a question. I could've chosen not to answer. I don't walk around thinking about Hitler or Louis Farrakhan. But I understand what you're saying: "Why would you want to risk fueling hateful thinking?" I have a platform, and I would never want to hurt people. I would never do that. I would never even imagine doing that. I would never even want a group of white men who believe that the Confederate flag is worth saving to feel bad. That's not how I operate."
Following Badu's controversial statement, fans took to Twitter to express their disbelief:
Erykah Badu, when you say you can see good in Hitler, just remember something... in your mind, that might seem like a real smart and nuanced point. To Holocaust survivors and their ancestors, it's a kick in the teeth and an unnecessarily offensive thing to say.

— Joshua Zitser (@mrjoshz) January 24, 2018
The Erykah Badu interview in Vulture is problematic to say the least. If you're going to operate without professional PR, you need to have enough discipline to resist volunteering any opinion on Hitler.

— Clayton Rainey (@runningfool75) January 24, 2018
Erykah Badu is just as wrong to say she sees "good in Hitler" as @realDonaldTrump was wrong blaming "many sides" in Charlottesville & saying white nationalists R "very fine people." Just shameful Erykah follows in Donald's footsteps.

— I'm Every Woman (@ebpersons) January 24, 2018
Gotta say, if someone had told me a celebrity would talk about seeing the good in Hitler, Erykah Badu would've been extremely low on my extremely long list of guesses.

— ((())) (@OhNoSheTwitnt) January 24, 2018
While others thought the negative backlash was too strong:
Erykah Badu receiving "outrage" because she said Hitlers art was good. She's right, it is good. It's very good. This reveals that we aren't just one thing. We're so complex & vary in so many ways that even Hitler, that evil nut job of a dictator, can make some beautiful paintings

— ♢ L A I T H (@LaithHakeem) January 24, 2018
Black twitter mad at Erykah Badu for saying Hitler was a wonderful painter- meanwhile folks really paid damn near half a mil for his work when his paintings were auctioned off

— kind2know1 (@conscious_sis) January 24, 2018
Y'all mad Erykah Badu said she thought Hitler was a good painter....Please go outside.

— BANDWAGON EAGLES FAN (@DimplesBePlayin) January 24, 2018
Erykah Badu then took to Instagram to respond to the backlash she received: "When the media tries to spin ya sh.. Ay," she captioned a picture of herself sitting on a red sofa.