DMX Just Welcomed His 15th Child And Twitter Reacted In The Best Way
23 August 2016, 10:22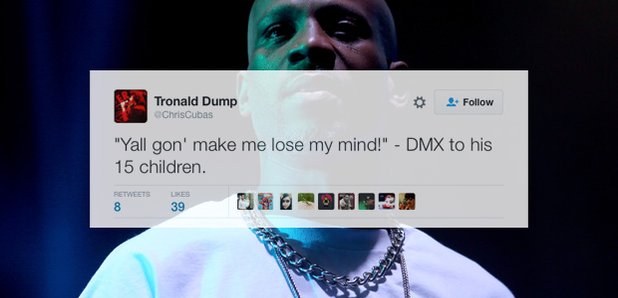 Congrats X!
DMX has become a father for the 15th time, welcoming his baby boy Exodus Simmons.
The rapper, who had the child with his longtime girlfriend Desiree, has described baby Exodus as a "blessing".
According to TMZ, X wasn't present for the birth but flew to New York for the baby's first night.
DMX filed for bankruptcy in 2007 after being ordered to pay over $1m in child support. However he has since reportedly settled the case.
Following news of his latest child, Twitter users reacted with a mixture of happiness, shock and general bewilderment.
Check out some of the best reaction below:
Dmx planted his seeds and his 15 kids are going to rule the rap game in 2030 we gon have 15 dmxs stay woke

— PersianYe (@PersianYeezus) 23 August 2016
This man DMX got 15 kids. He got a whole football team and subs.

— Marco (@DMars__) 22 August 2016
"Yall gon' make me lose my mind!" - DMX to his 15 children.

— Tronald Dump (@ChrisCubas) 22 August 2016
DMX 15 kids? No wonder he filled for bankruptcy long ago lol

— r2ymønd (@RayontheMoon) 22 August 2016
DMX needs to get neutered..dude on baby #15

— Wani Mojus (@TooMuchMojus) 23 August 2016
DMX has 15 kids and my lesbian friend trying to get pregnant has spent $40,000 and still got nothin.

— LaurenBedfordRussell (@1LaurenRussell) 23 August 2016
Its like these women are taking advantage of DMX,why on earth do u wanna get pregnant for a man battling child support. Baby no.15

— Chi (@chiinedu) 23 August 2016
DMX has 15 kids??like 15!!! Clearly the dude missed sex education class..

— Henry Makoni (@ChiefZW) 23 August 2016
So DMX has now fathered 15 kids, he wasn't lying when he sang to the world "x gon give it to ya" #DMX #bigdaddy #wheresyourhoodat

— Emmett Egan (@EmmettEganSC) 23 August 2016
Congrats DMX!