Here Are The Best Reactions To The Coachella 2018 Lineup Announcement
3 January 2018, 11:15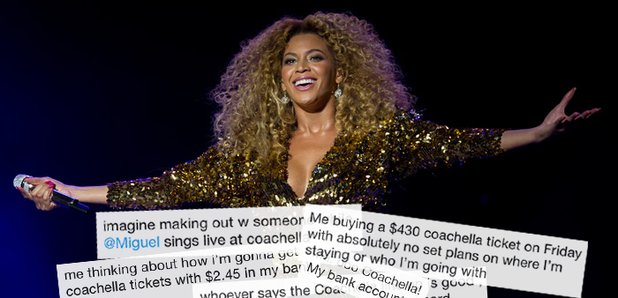 The Weeknd, Beyoncé and Eminem are all set to headline.
The full lineup for Coachella 2018 has just been announced and, as expected, the Internet has opinions.
Major hype is surrounding the three headline acts as Beyoncé gears up to grace the main stage at the famous festival, which is held in the grounds of the Empire Polo Club in Indio, California.
The 'Formation' songstress will headline on both Saturday nights, The Weeknd will fill Friday's evening slots and 'Revival' star Eminem is set to steal the Sunday night shows.
The first weekend of the festival will take place on April 13th-15th and the second will be held a week later, from April 20th-22nd.
And with artists including SZA, Post Malone, Migos, Tyler The Creator and Vince Staples also featured on the bill, it looks like it's going to be a huge year.
Seriously, people are excited.
I am going to Coachella this year idc and idk how but I will sell a kidney if I have to HAVE YOU SEEN THIS LINE UP pic.twitter.com/WBz9aDNFVm

— Gen (@_genesisv_17) 3 January 2018
this coachella set list got my heart palpating like damn

— emery t kelly. (@EmeryTKelly) 3 January 2018
Me buying a $430 coachella ticket on Friday with absolutely no set plans on where I'm staying or who I'm going with pic.twitter.com/Imeix4gmIc

— Aly Stringfellow (@lyssbee) 3 January 2018
I WANNA GO TO COACHELLA WITH A GROUP OF POPPING ASS PEOPLE, WHOS DOWN?????

— AALIYAH (@NOTORIOUSAALI) 3 January 2018
Some extra cash would be much appreciated.
Them Coachella tickets $430...EACH pic.twitter.com/TFKQm1utbJ

— (@endeyuh) 3 January 2018
I need a sugar daddy or sugar momma to pay for my Coachella trip. Serious inquires only. Dm me.

— Celestial (@lunaaademiel) 3 January 2018
me thinking about how i'm gonna get coachella tickets with $2.45 in my bank account pic.twitter.com/9ajLw4L40S

— thomas (@lilbaked) 3 January 2018
Me: ooo Coachella!
My bank account: pic.twitter.com/B4ehBnrziY

— Isaac C (@_eyezick_) 3 January 2018
That font size, tho.
me reading the coachella lineup like pic.twitter.com/ID9fM59ix6

— Melz (@melissanatalija) 3 January 2018
Managers negotiating with Coachella brass to get a bigger font size pic.twitter.com/BeJxpNervO

— Matthew A. Cherry (@MatthewACherry) 3 January 2018
Your hipster score can be determined through looking at the Coachella lineup: the smaller the font of bands you recognize, the higher the score.

— Owen Ellis (@_owen_ellis) 3 January 2018
"Our band played at Coachella."
"Oh yeah? What font size were you?" pic.twitter.com/NGAbT2yDXj

— J. Elvis Weinstein (@JElvisWeinstein) 3 January 2018
Yeah, it's clearly not for everyone.
Seriously that coachella lineup is absolute garbage

— chris (@ChrisWitABigBat) 3 January 2018
whoever says the Coachella line up is good , I pray they never pass you the aux cord

— jose (@xasvpjose) 3 January 2018
The line up for Coachella is trash, don't @ me

— VALNEXTDOOR (@vallnextdoor) 3 January 2018
Coachella lineup straight trash

— james (@Jimmy_Boy_Suave) 3 January 2018
Remaining tickets for Coachella will go on sale on Friday 5th January at 12pm PST, while more information can be found over on the Coachella 2018 website.