Who is CJ? What are the lyrics to the rapper's song 'Whoopty'?
14 January 2021, 17:39 | Updated: 14 January 2021, 17:45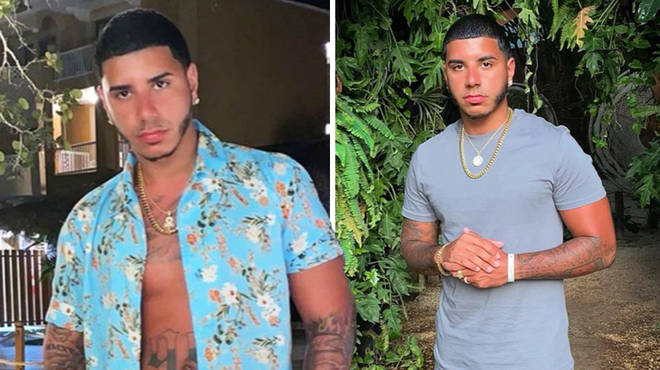 The New York rapper has gone viral since the release of his Drill song 'Whoopty'.
The rising rapper CJ has taken the music scene by storm.
The rapper, who decided to take a chance and spit lyrics over a Brooklyn drill beat, has recently signed a music recording deal with Warner Records.
After releasing his viral song titled 'Whoopty', the track has been streamed more than 47 million times on Spotify and its music video boats over 115 million YouTube views.
Who is CJ?

CJ is an American rapper from Staten Island, New York. He is most known for his hot breakout single "Whoopty", that she dropped last year summer.

The song became on of the biggest songs of the summer and went viral on all social media platforms.

The New York drill record continues to climb the Billboard Hot 100 chart peaking at No. 25.

CJ.

Picture: Instagram

The rising star initially released 'Whoopty' on July 30 2020, before being re-released by Warner Records.

The rapper has gotten co-signs from Cardi B, French Montana, 50 Cent and Busta Rhymes.

Although the rapper is seeing success now, he has been rapping since he was 16 years-old, inspired by rappers like 50 Cent, Lil Wayne, Nas and Nelly.

On Wednesday (Jan 13) it was revealed CJ had signed a new music recording deal with Warner Records.

In an interview with Billboard, CJ spoke about signing his new deal and said "I just felt blessed at the moment, you know?".

He continued "It was just the start of a new chapter. It comes with a lot of work, but I was ready for it. It was a blessed feeling."

CJ went on to say, "We definitely sat down with a few other labels. A lot of labels were at the door knocking. I just feel like Warner had the best situation for me. It made perfect sense."

How old is CJ?

CJ is 24-years-old.

What is CJ's ethnicity?

In a video with Genius the rapper revealed he is Puerto Rican.

He explains Whoopty's memorable lyrics; "Hittin' the cha-cha. Open his lata. Then he dancing bachata" were inspired by his roots.

CJ.

Picture: Instagram

The rapper said "I'm Puerto Rican, you know what I'm saying? I been in the house, you know my mom be playing Spanish music."

"I had to you know, embrace my heritage on this song I just felt like it was needed."

'Lata' means 'can' in Spanish, while cha-cha and bachata are Hispanic dances.

What is CJ's net worth?

As CJ is new to the game, there has not been an official report revealing his net worth at this present moment.

However, this page will be updated when that information becomes available.

What is CJ's instagram?

CJ's Instagram handle is @realcj_. The rappers account boats over a whopping 259k followers.

Check out a post below.

What are the lyrics to CJ's 'Whoopty'?

[Intro]
Heavy on the SSO sh*t, man
Loyalty over royalty, y'all ni**as know the vibes
Pxcoyo killed this beat, b*tch


[Chorus]
Whoopty
B*tch, I'm outside, it's a movie (Whoopty), huh
Blue cheese
I swear I'm addicted to blue cheese
I gotta stick to this paper like loose leaf (Huh)
B*tch, I'm 'bout my chicken like it's a two-piece
You can have your b*tch back, she a groupie
She just swallowed all my kids in the two-seat (Gag)
Swagged out
For Milly, we bringing them gats out
I still got some racks stuffed in the trap house
Off the '42, I'm blowing her back out (Blowing her back out)
I'm back on ‎‎‎‎‎‎‎‎‎‎‎‎‎‎‎‎‎‎‎‎‎‎‎‎‎‎‎‎‎‎‎‎‎‎‎‎‎‎‎‎‎‎‎‎‎‎‎‎‎‎‎‎‎‎‎‎‎‎‎‎‎‎‎‎‎‎‎‎‎‎‎‎‎‎‎‎‎‎‎‎‎‎‎‎‎‎‎‎‎‎‎‎‎‎‎‎‎‎‎‎‎‎‎‎‎‎‎‎‎‎‎‎‎‎‎‎‎‎‎‎‎‎‎‎‎‎‎‎‎‎‎‎‎‎‎‎‎‎‎‎‎‎‎‎‎‎‎‎‎‎‎‎‎‎‎‎‎‎‎‎‎‎‎‎‎‎‎‎‎‎‎‎‎‎‎‎‎‎‎‎‎‎‎‎‎‎‎‎‎‎‎‎‎‎‎‎‎‎‎‎‎‎‎‎‎‎‎‎‎‎‎‎‎‎‎‎‎‎‎‎‎‎‎‎‎‎‎‎‎‎‎‎‎‎‎‎‎‎‎‎‎‎‎‎‎‎‎‎‎‎‎‎‎‎‎‎‎‎‎‎‎‎‎‎‎‎‎‎‎‎‎‎‎‎‎‎‎‎‎‎‎‎‎‎‎‎‎‎‎‎‎‎‎‎‎‎‎‎‎‎‎‎‎‎‎‎‎‎‎‎‎‎‎‎‎‎‎‎‎‎‎‎‎‎‎‎‎‎‎‎‎‎‎‎‎‎‎‎‎‎‎‎‎‎‎‎‎‎‎‎‎‎‎‎‎‎‎‎‎‎‎‎‎‎‎‎‎‎‎‎‎‎‎‎‎‎‎‎‎‎‎‎‎‎‎‎‎‎‎‎‎‎‎‎‎‎‎‎‎‎‎‎‎‎‎‎‎‎‎‎‎‎‎‎‎‎‎‎‎‎‎‎‎‎‎‎‎‎‎‎‎‎‎‎‎‎‎‎‎‎‎‎‎‎‎‎‎‎‎‎‎‎‎‎‎‎‎‎‎‎‎‎‎‎‎‎‎‎‎‎‎‎‎‎‎‎‎‎‎‎‎‎‎‎‎‎‎‎‎‎‎‎‎‎‎‎‎‎‎‎‎‎‎‎‎‎‎‎‎‎‎‎‎‎‎‎‎‎‎‎‎‎‎‎‎‎‎‎‎‎‎‎‎‎‎‎‎‎‎‎‎‎‎‎‎‎‎‎‎‎‎‎‎‎‎‎‎‎‎‎‎‎‎‎‎‎‎‎‎‎‎‎‎‎‎‎‎‎‎‎‎‎‎‎‎‎‎‎‎‎‎‎‎‎‎‎‎‎‎‎‎‎‎‎‎‎‎‎‎‎‎‎‎‎‎‎‎‎‎‎‎‎‎‎‎‎‎‎‎‎‎‎‎‎‎‎‎‎‎‎‎‎‎‎‎‎‎‎‎‎‎‎‎‎‎‎‎‎‎‎‎‎‎‎‎‎‎‎‎‎‎‎‎‎‎‎‎‎‎‎‎‎‎‎‎‎‎‎‎‎‎‎‎‎‎‎‎‎‎‎‎‎‎‎‎‎‎‎‎‎‎‎‎‎‎‎‎‎‎‎‎‎‎‎‎‎‎‎‎‎‎‎‎‎‎‎‎‎‎‎‎‎‎‎‎‎‎‎‎‎‎‎‎‎‎‎‎‎‎‎‎‎‎‎‎‎‎‎‎‎‎‎‎‎‎‎‎‎‎‎‎‎‎‎‎‎‎‎‎‎‎‎‎‎‎‎‎‎‎‎‎‎‎‎‎‎‎‎‎‎‎‎‎‎‎‎‎‎‎‎‎‎‎‎‎‎‎‎‎‎‎‎‎‎‎‎‎‎‎‎‎‎‎‎‎‎‎‎‎‎‎‎‎‎‎‎‎‎‎‎‎‎‎‎‎‎‎‎‎‎‎‎‎‎‎‎‎‎‎‎‎‎‎‎‎‎‎‎‎‎‎‎‎‎‎‎‎‎‎‎‎‎‎‎‎‎‎‎‎‎‎‎‎‎‎‎‎‎‎‎‎‎‎‎‎‎‎‎‎‎‎‎‎‎‎‎‎‎‎‎‎‎‎‎‎‎‎‎‎‎‎‎‎‎‎‎‎‎‎‎‎‎‎‎‎‎‎‎‎‎‎‎‎‎‎‎‎‎‎‎‎‎‎‎‎‎‎‎‎‎‎‎‎‎‎‎‎‎‎‎‎‎‎‎‎‎‎‎‎‎‎‎‎‎‎‎‎‎‎‎‎‎‎‎‎‎‎‎‎‎‎‎‎‎‎‎‎‎‎‎‎‎‎‎‎‎‎‎‎‎‎‎‎‎‎‎‎‎‎‎‎‎‎‎‎‎‎‎‎‎‎‎‎‎‎‎‎‎‎‎‎‎‎‎‎‎‎‎‎‎‎‎‎‎‎‎‎‎‎‎‎‎‎‎‎‎‎‎‎‎‎‎‎‎‎‎‎‎‎‎‎‎‎‎‎‎‎‎‎‎‎‎‎‎‎‎‎‎‎‎‎‎‎‎‎‎‎‎‎‎‎‎‎‎‎‎‎‎‎‎‎‎‎‎‎‎‎‎‎‎‎‎‎‎‎‎‎‎‎‎‎‎‎‎‎‎‎‎‎‎‎‎‎‎‎‎‎‎‎‎‎‎‎‎‎‎‎‎‎‎‎‎‎‎‎‎‎‎‎‎‎‎‎‎‎‎‎‎‎‎‎‎‎‎‎‎‎‎‎‎‎‎‎‎‎‎‎‎‎‎‎‎‎‎‎‎‎‎‎‎‎‎‎‎‎‎‎‎‎‎‎‎‎‎‎‎‎‎‎‎‎‎‎‎‎‎‎‎‎‎‎‎‎‎‎‎‎‎‎‎‎‎‎‎‎‎‎‎‎‎‎‎‎‎‎‎‎‎‎‎‎‎‎‎‎‎‎‎‎‎‎‎‎‎‎‎‎‎‎‎‎‎‎‎‎‎‎‎‎‎‎‎‎‎‎‎‎‎‎‎‎‎‎‎‎‎‎‎‎‎‎‎‎‎‎‎‎‎‎‎‎‎‎‎‎‎‎‎‎‎‎‎‎‎‎‎‎‎‎‎‎‎‎‎‎‎‎‎‎‎‎‎‎‎‎‎‎‎‎‎‎‎‎‎‎‎‎‎‎‎‎‎‎‎‎‎‎‎‎‎‎‎‎‎‎‎‎‎‎‎‎‎‎‎‎‎‎‎‎‎‎‎‎‎‎‎‎‎‎‎‎‎‎‎‎‎‎‎‎‎‎‎‎‎‎‎‎‎‎‎‎‎‎‎‎‎‎‎‎‎‎‎‎‎‎‎‎‎‎‎‎‎‎‎‎‎‎‎‎‎‎‎‎‎‎‎‎‎‎‎‎‎‎‎‎‎‎‎‎‎‎‎‎‎‎‎‎‎‎‎‎‎‎‎‎‎‎‎‎‎‎‎‎‎‎‎‎‎‎‎‎‎‎‎‎‎‎‎‎‎‎‎‎‎‎‎‎‎‎‎‎‎‎‎‎‎‎‎‎‎‎‎‎‎‎‎‎‎‎‎‎‎‎‎‎‎‎‎‎‎‎‎‎‎‎‎‎‎‎‎‎‎‎‎‎‎‎‎‎‎‎‎‎‎‎‎‎‎‎‎‎‎‎‎‎‎‎‎‎‎‎‎‎‎‎‎‎‎‎‎‎‎‎‎‎‎‎‎‎‎‎‎‎‎‎‎‎‎‎‎‎‎‎‎‎‎‎‎‎‎‎‎‎‎‎‎‎‎‎‎‎‎‎‎‎‎‎‎‎‎‎‎‎‎‎‎‎‎‎‎‎‎‎‎‎‎‎‎‎‎‎‎‎‎‎‎‎‎‎‎‎‎‎‎‎‎‎‎‎‎‎‎‎‎‎‎‎‎‎‎‎‎‎‎‎‎‎‎‎‎‎‎‎‎‎‎‎‎‎‎‎‎‎‎‎‎‎‎‎‎‎‎‎‎‎‎‎‎‎‎‎‎‎‎‎‎‎‎‎‎‎‎‎‎‎‎‎‎‎‎‎‎‎‎‎‎‎‎‎‎‎‎‎‎‎‎‎‎‎‎‎‎‎‎‎‎‎‎‎‎‎‎‎‎‎‎‎‎‎‎‎‎‎‎‎‎‎‎‎‎‎‎‎‎‎‎‎‎‎‎‎‎‎‎‎‎‎‎‎‎‎‎‎‎‎‎‎‎‎‎‎‎‎‎‎‎‎‎‎‎‎‎‎‎‎‎‎‎‎‎‎‎‎‎‎‎‎‎‎‎‎‎‎‎‎‎‎‎‎‎‎‎‎‎‎‎‎‎‎‎‎‎‎‎‎‎‎‎‎‎‎‎‎‎‎‎‎‎‎‎‎‎‎‎‎‎‎‎‎‎‎‎‎‎‎‎‎‎‎‎‎‎‎‎‎‎‎‎‎‎‎‎‎‎‎‎‎‎‎‎‎‎‎‎‎‎‎‎‎‎‎‎‎‎‎‎‎‎‎‎‎‎‎‎‎‎‎‎‎‎‎‎‎‎‎‎‎‎‎‎‎‎‎‎‎‎‎‎‎‎‎‎‎‎‎‎‎‎‎‎‎‎‎‎‎‎‎‎‎‎‎‎‎‎‎‎‎‎‎‎‎‎‎‎‎‎‎‎‎‎‎‎‎‎‎‎‎‎‎‎‎‎‎‎‎‎‎‎‎‎‎‎‎‎‎‎‎‎‎‎‎‎‎‎‎‎‎‎‎‎‎‎‎‎‎‎‎‎‎‎‎‎‎‎‎‎‎‎‎‎‎‎‎‎‎‎‎‎‎‎‎‎‎‎‎‎‎‎‎‎‎‎‎‎‎‎‎‎‎‎‎‎‎‎‎‎‎‎‎‎‎‎‎‎‎‎‎‎‎‎‎‎‎‎‎‎‎‎‎‎‎‎‎‎‎‎‎‎‎‎‎‎‎‎‎‎‎‎‎‎‎‎‎‎‎‎‎‎‎‎‎‎‎‎‎‎‎‎‎‎‎‎‎‎‎‎‎‎‎‎‎‎‎‎‎‎‎‎‎‎‎‎‎‎‎‎‎‎‎‎‎‎‎‎‎‎‎‎‎‎‎‎‎‎‎‎‎‎‎‎‎‎‎‎‎‎‎‎‎‎‎‎‎‎‎‎‎‎‎‎‎‎‎‎‎‎‎‎‎‎‎‎‎‎‎‎‎‎‎‎‎‎‎‎‎‎‎‎‎‎‎‎‎‎‎‎‎‎‎‎‎‎‎‎‎‎‎‎‎‎‎‎‎‎‎‎‎‎‎‎‎‎‎‎‎‎‎‎‎‎‎‎‎‎‎‎‎‎‎‎‎‎‎‎‎‎‎‎‎‎‎‎‎‎‎‎‎‎‎‎‎‎‎‎‎‎‎‎‎‎‎‎‎‎‎‎‎‎‎‎‎‎‎‎‎‎‎‎‎‎‎‎‎‎‎‎‎‎‎‎‎‎‎‎‎‎‎‎‎‎‎‎‎‎‎‎‎‎‎‎‎‎‎‎‎‎‎‎‎‎‎‎‎‎‎‎‎‎‎‎‎‎‎‎‎‎‎‎‎‎‎‎‎‎‎‎‎‎‎‎‎‎‎‎‎‎‎‎‎‎‎‎‎‎‎‎‎‎‎‎‎‎‎‎‎‎‎‎‎‎‎‎‎‎‎‎‎‎‎‎‎‎‎‎‎‎‎‎‎‎‎‎‎‎‎‎‎‎‎‎‎‎‎‎‎‎‎‎‎‎‎‎‎‎‎‎‎‎‎‎‎‎‎‎‎‎‎‎‎‎‎‎‎‎‎‎‎‎‎‎‎‎‎‎‎‎‎‎‎‎‎‎‎‎‎‎‎‎‎‎‎‎‎‎‎‎‎‎‎‎‎‎‎‎‎‎‎‎‎‎‎‎‎‎‎‎‎‎‎‎‎‎‎‎‎‎‎‎‎‎‎‎‎‎‎‎‎‎‎‎‎‎‎‎‎‎‎‎‎‎‎‎‎‎‎‎‎‎‎‎‎‎‎‎‎‎‎‎‎‎‎‎‎‎‎‎‎‎‎‎‎‎‎‎‎‎‎‎‎‎‎‎‎‎‎‎‎‎‎‎‎‎‎‎‎‎‎‎‎‎‎‎‎‎‎‎‎‎‎‎‎‎‎‎‎‎‎‎‎‎‎‎‎‎‎‎‎‎‎‎‎‎‎‎‎‎‎‎‎‎‎‎‎‎‎‎‎‎‎‎‎‎‎‎‎‎‎‎‎‎‎‎‎‎‎‎‎‎‎‎‎‎‎‎‎‎‎‎‎‎‎‎‎‎‎‎‎‎‎‎‎‎‎‎‎‎‎‎‎‎‎‎‎‎‎‎‎‎‎‎‎‎‎‎‎‎‎‎‎‎‎‎‎‎‎‎‎‎‎‎‎‎‎‎‎‎‎‎‎‎‎‎‎‎‎‎‎‎‎‎‎‎‎‎‎‎‎‎‎‎‎‎‎‎‎‎‎‎‎‎‎‎‎‎‎‎‎‎‎‎‎‎‎‎‎‎‎‎‎‎‎‎‎‎‎‎‎‎‎‎‎‎‎‎‎‎‎‎‎‎‎‎‎‎‎‎‎‎‎‎‎‎‎‎‎‎‎‎‎‎‎‎‎‎‎‎‎‎‎‎‎‎‎‎‎‎‎‎‎‎‎‎‎‎‎‎‎‎‎‎‎‎‎‎‎‎‎‎‎‎‎‎‎‎‎‎‎‎‎‎‎‎‎‎‎‎‎‎‎‎‎‎‎‎‎‎‎‎‎‎‎‎‎‎‎‎‎‎‎‎‎‎‎‎‎‎‎‎‎‎‎‎‎‎‎‎‎‎‎‎‎‎‎‎‎‎‎‎‎‎‎‎‎‎‎‎‎‎‎‎‎‎‎‎‎‎‎‎‎‎‎‎‎‎‎‎‎‎‎‎‎‎‎‎‎‎‎‎‎‎‎‎‎‎‎‎‎‎‎‎‎‎‎‎‎‎‎‎‎‎‎‎‎‎‎‎‎‎‎‎‎‎‎‎‎‎‎‎‎‎‎‎‎‎‎‎‎‎‎‎‎‎‎‎‎‎‎‎‎‎‎‎‎‎‎‎‎‎‎‎‎‎‎‎‎‎‎‎‎‎‎‎‎‎‎‎‎‎‎‎‎‎‎‎‎‎‎‎‎‎‎‎‎‎‎‎‎‎‎‎‎‎‎‎‎‎‎‎‎‎‎‎‎‎‎‎‎‎‎‎‎‎‎‎‎‎‎‎‎‎‎‎‎‎‎‎‎‎‎‎‎‎‎‎‎‎‎‎‎‎‎‎‎‎‎‎‎‎‎‎‎‎‎‎‎‎‎‎‎‎‎‎‎‎‎‎‎‎‎‎‎‎‎‎‎‎‎‎‎‎‎‎‎‎‎‎‎‎‎‎‎‎‎‎‎‎‎‎‎‎‎‎‎‎‎‎‎‎‎‎‎‎‎‎‎‎‎‎‎‎‎‎‎‎‎‎‎‎‎‎‎‎‎‎‎‎‎‎‎‎‎‎‎‎‎‎‎‎‎‎‎‎‎‎‎‎‎‎‎‎‎‎‎‎‎‎‎‎‎‎‎‎‎‎‎‎‎‎‎‎‎‎‎‎‎‎‎‎‎‎‎‎‎‎‎‎‎‎‎‎‎‎‎‎‎‎‎‎‎‎‎‎‎‎‎‎‎‎‎‎‎‎‎‎‎‎‎‎‎‎‎‎‎‎‎‎‎‎‎‎‎‎‎‎‎‎‎‎‎‎‎‎‎‎‎‎‎‎‎‎‎‎‎‎‎‎‎‎‎‎‎‎‎‎‎‎‎‎‎‎‎‎‎‎‎‎‎‎‎‎‎‎‎‎‎‎‎‎‎‎‎‎‎‎‎‎‎‎‎‎‎‎‎‎‎‎‎‎‎‎‎‎‎‎‎‎‎‎‎‎‎‎‎‎‎‎‎‎‎‎‎‎‎‎‎‎‎‎‎‎‎‎‎‎‎‎‎‎‎‎‎‎‎‎‎‎‎‎‎‎‎‎‎‎‎‎‎‎‎‎‎‎‎‎‎‎‎‎‎‎‎‎‎‎‎‎‎‎‎‎‎‎‎‎‎‎‎‎‎‎‎‎‎‎‎‎‎‎‎‎‎‎‎‎‎‎‎‎‎‎‎‎‎‎‎‎‎‎‎‎‎‎‎‎‎‎‎‎‎‎‎‎‎‎‎‎‎‎‎‎‎‎‎‎‎‎‎‎‎‎‎‎‎‎‎‎‎‎‎‎‎‎‎‎‎‎‎‎‎‎‎‎‎‎‎‎‎‎‎‎‎‎‎‎‎‎‎‎‎‎‎‎‎‎‎‎‎‎‎‎‎‎‎‎‎‎‎‎‎‎‎‎‎‎‎‎‎‎‎‎‎‎‎‎‎‎‎‎‎‎‎‎‎‎‎‎‎‎‎‎‎‎‎‎‎‎‎‎‎‎‎‎‎‎‎‎‎‎‎‎‎‎‎‎‎‎‎‎‎‎‎‎‎‎‎‎‎‎‎‎‎‎‎‎‎‎‎‎‎‎‎‎‎‎‎‎‎‎‎‎‎‎‎‎‎‎‎‎‎‎‎‎‎‎‎‎‎‎‎‎‎‎‎‎‎‎‎‎‎‎‎‎‎‎‎‎‎‎‎‎‎‎‎‎‎‎‎‎‎‎‎‎‎‎‎‎‎‎‎‎‎‎‎‎‎‎‎‎‎‎‎‎‎‎‎‎‎‎‎‎‎‎‎‎‎‎‎‎‎‎‎‎‎‎‎‎‎‎‎‎‎‎‎‎‎‎‎‎‎‎‎‎‎‎‎‎‎‎‎‎‎‎‎‎‎‎‎‎‎‎‎‎‎‎‎‎‎‎‎‎‎‎‎‎‎‎‎‎‎‎‎‎‎‎‎‎‎‎‎‎‎‎‎‎‎‎‎‎‎‎‎‎‎‎‎‎‎‎‎‎‎‎‎‎‎‎‎‎‎‎‎‎‎‎‎‎‎‎‎‎‎‎‎‎‎‎‎‎‎‎‎‎‎‎‎‎‎‎‎‎‎‎‎‎‎‎‎‎‎‎‎‎‎‎‎‎‎‎‎‎‎‎‎‎‎‎‎‎‎‎‎‎‎‎‎‎‎‎‎‎‎‎‎‎‎‎‎‎‎‎‎‎‎‎‎‎‎‎‎‎‎‎‎‎‎‎‎‎‎‎‎‎‎‎‎‎‎‎‎‎‎‎‎‎‎‎‎‎‎‎‎‎‎‎‎‎‎‎‎‎‎‎‎‎‎‎‎‎‎‎‎‎‎‎‎‎‎‎‎‎‎‎‎‎‎‎‎‎‎‎‎‎‎‎‎‎‎‎‎‎‎‎‎‎‎‎‎‎‎‎‎‎‎‎‎‎‎‎‎‎‎‎‎‎‎‎‎‎‎‎‎‎‎‎‎‎‎‎‎‎‎‎‎‎‎‎‎‎‎‎‎‎‎‎‎‎‎‎‎‎‎‎‎‎‎‎‎‎‎‎‎‎‎‎‎‎‎‎‎‎‎‎‎‎‎‎‎‎‎‎‎‎‎‎‎‎‎‎‎‎‎‎‎‎‎‎‎‎‎‎‎‎‎‎‎‎‎‎‎‎‎‎‎‎‎‎‎‎‎‎‎‎‎‎‎‎‎‎‎‎‎‎‎‎‎‎‎‎‎‎‎‎‎‎‎‎‎‎‎‎‎‎‎‎‎‎‎‎‎‎‎‎‎‎‎‎‎‎‎‎‎‎‎‎‎‎‎‎‎‎‎‎‎‎‎‎‎‎‎‎‎‎‎‎‎‎‎‎‎‎‎‎‎‎‎‎‎‎‎‎‎‎‎‎‎‎‎‎‎‎‎‎‎‎‎‎‎‎‎‎‎‎‎‎‎‎‎‎‎‎‎‎‎‎‎‎‎‎‎‎‎‎‎‎‎‎‎‎‎‎‎‎‎‎‎‎‎‎‎‎‎‎‎‎‎‎‎‎‎‎‎‎‎‎‎‎‎‎‎‎‎‎‎‎‎‎‎‎‎‎‎‎‎‎‎‎‎‎‎‎‎‎‎‎‎‎‎‎‎‎‎‎‎‎‎‎‎‎‎‎‎‎‎‎‎‎‎‎‎‎‎‎‎‎‎‎‎‎‎‎‎‎‎‎‎‎‎‎‎‎‎‎‎‎‎‎‎‎‎‎‎‎‎‎‎‎‎‎‎‎‎‎‎‎‎‎‎‎‎‎‎‎‎‎‎‎‎‎‎‎‎‎‎‎‎‎‎‎‎‎‎‎‎‎‎‎‎‎‎‎‎‎‎‎‎‎‎‎‎‎‎‎‎‎‎‎‎‎‎‎‎‎‎‎‎‎‎‎‎‎‎‎‎‎‎‎‎‎‎‎‎‎‎‎‎‎‎‎‎‎‎‎‎‎‎‎‎‎‎‎‎‎‎‎‎‎‎‎‎‎‎‎‎‎‎‎‎‎‎‎‎‎‎‎‎‎‎‎‎‎‎‎‎‎‎‎‎‎‎‎‎‎‎‎‎‎‎‎‎‎‎‎‎‎‎‎‎‎‎‎‎‎‎‎‎‎‎‎‎‎‎‎‎‎‎‎‎‎‎‎‎‎‎‎‎‎‎‎‎‎‎‎‎‎‎‎‎‎‎‎‎‎‎‎‎‎‎‎‎‎‎‎‎‎‎‎‎‎‎‎‎‎‎‎‎‎‎‎‎‎‎‎‎‎‎‎‎‎‎‎‎‎‎‎‎‎‎‎‎‎‎‎‎‎‎‎‎‎‎‎‎‎‎‎‎‎‎‎‎‎‎‎‎‎‎‎‎‎‎‎‎‎‎‎‎‎‎‎‎‎‎‎‎‎‎‎‎‎‎‎‎‎‎‎‎‎‎‎‎‎‎‎‎‎‎‎‎‎‎‎‎‎‎‎‎‎‎‎‎‎‎‎‎‎‎‎‎‎‎‎‎‎‎‎‎‎‎‎‎‎‎‎‎‎‎‎‎‎‎‎‎‎‎‎‎‎‎‎‎‎‎‎‎‎‎‎‎‎‎‎‎‎‎‎‎‎‎‎‎‎‎‎‎‎‎‎‎‎‎‎‎‎‎‎‎‎‎‎‎‎‎‎‎‎‎‎‎‎‎‎‎‎‎‎‎‎‎‎‎‎‎‎‎‎‎‎‎‎‎‎‎‎‎‎‎‎‎‎‎‎‎‎‎‎‎‎‎‎‎‎‎‎‎‎‎‎‎‎‎‎‎‎‎‎‎‎‎‎‎‎‎‎‎‎‎‎‎‎‎‎‎‎‎‎‎‎‎‎‎‎‎‎‎‎‎‎‎‎‎‎‎‎‎‎‎‎‎‎‎‎‎‎‎‎‎‎‎‎‎‎‎‎‎‎‎‎‎‎‎‎‎‎‎‎‎‎‎‎‎‎‎‎‎‎‎‎‎‎‎‎‎‎‎‎‎‎‎‎‎‎‎‎‎‎‎‎‎‎‎‎‎‎‎‎‎‎‎‎‎‎‎‎‎‎‎‎‎‎‎‎‎‎‎‎‎‎‎‎‎‎‎‎‎‎‎‎‎‎‎‎‎‎‎‎‎‎‎‎‎‎‎‎‎‎‎‎‎‎‎‎‎‎‎‎‎‎‎‎‎‎‎‎‎‎‎‎‎‎‎‎‎‎‎‎‎‎‎‎‎‎‎‎‎‎‎‎‎‎‎‎‎‎‎‎‎‎‎‎‎‎‎‎‎‎‎‎‎‎‎‎‎‎‎‎‎‎‎‎‎‎‎‎‎‎‎‎‎‎‎‎‎‎‎‎‎‎‎‎‎‎‎‎‎‎‎‎‎‎‎‎‎‎‎‎‎‎‎‎‎‎‎‎‎‎‎‎‎‎‎‎‎‎‎‎‎‎‎‎‎‎‎‎‎‎‎‎‎‎‎‎‎‎‎‎‎‎‎‎‎‎‎‎‎‎‎‎‎‎‎‎‎‎‎‎‎‎‎‎‎‎‎‎‎‎‎‎‎‎‎‎‎‎‎‎‎‎‎‎‎‎‎‎‎‎‎‎‎‎‎‎‎‎‎‎‎‎‎‎‎‎‎‎‎‎‎‎‎‎‎‎‎‎‎‎‎‎‎‎‎‎‎‎‎‎‎‎‎‎‎‎‎‎‎‎‎‎‎‎‎‎‎‎‎‎‎‎‎‎‎‎‎‎‎‎‎‎‎‎‎‎‎‎‎‎‎‎‎‎‎‎‎‎‎‎‎‎‎‎‎‎‎‎‎‎‎‎‎‎‎‎‎‎‎‎‎‎‎‎‎‎‎‎‎‎‎‎‎‎‎‎‎‎‎‎‎‎‎‎‎‎‎‎‎‎‎‎‎‎‎‎‎‎‎‎‎‎‎‎‎‎‎‎‎‎‎‎‎‎‎‎‎‎‎‎‎‎‎‎‎‎‎‎‎‎‎‎‎‎‎‎‎‎‎‎‎‎‎‎‎‎‎‎‎‎‎‎‎‎‎‎‎‎‎‎‎‎‎‎‎‎‎‎‎‎‎‎‎‎‎‎‎‎‎‎‎‎‎‎‎‎‎‎‎‎‎‎‎‎‎‎‎‎‎‎‎‎‎‎‎‎‎‎‎‎‎‎‎‎‎‎‎‎‎‎‎‎‎‎‎‎‎‎‎‎‎‎‎‎‎‎‎‎‎‎‎‎‎‎‎‎‎‎‎‎‎‎‎‎‎‎‎‎‎‎‎‎‎‎‎‎‎‎‎‎‎‎‎‎‎‎‎‎‎‎‎‎‎‎‎‎‎‎‎‎‎‎‎‎‎‎‎‎‎‎‎‎‎‎‎‎‎‎‎‎‎‎‎‎‎‎‎‎‎‎‎‎‎‎‎‎‎‎‎‎‎‎‎‎‎‎‎‎‎‎‎‎‎‎‎‎‎‎‎‎‎‎‎‎‎‎‎‎‎‎‎‎‎‎‎‎‎‎‎‎‎‎‎‎‎‎‎‎‎‎‎‎‎‎‎‎‎‎‎‎‎‎‎‎‎‎‎‎‎‎‎‎‎‎‎‎‎‎‎‎‎‎‎‎‎‎‎‎‎‎‎‎‎‎‎‎‎‎‎‎‎‎‎‎‎‎‎‎‎‎‎‎‎‎‎‎‎‎‎‎‎‎‎‎‎‎‎‎‎‎‎‎‎‎‎‎‎‎‎‎‎‎‎‎‎‎‎‎‎‎‎‎‎‎‎‎‎‎‎‎‎‎‎‎‎‎‎‎‎‎‎‎‎‎‎‎‎‎‎‎‎‎‎‎‎‎‎‎‎‎‎‎‎‎‎‎‎‎‎‎‎‎‎‎‎‎‎‎‎‎‎‎‎‎‎‎‎‎‎‎‎‎‎‎‎‎‎‎‎‎‎‎‎‎‎‎‎‎‎‎‎‎‎‎‎‎‎‎‎‎‎‎‎‎‎‎‎‎‎‎‎‎‎‎‎‎‎‎‎‎‎‎‎‎‎‎‎‎‎‎‎‎‎‎‎‎‎‎‎‎‎‎‎‎‎‎‎‎‎‎‎‎‎‎‎‎‎‎‎‎‎‎‎‎‎‎‎‎‎‎‎‎‎‎‎‎‎‎‎‎‎‎‎‎‎‎‎‎‎‎‎‎‎‎‎‎‎‎‎‎‎‎‎‎‎‎‎‎‎‎‎‎‎‎‎‎‎‎‎‎‎‎‎‎‎‎‎‎‎‎‎‎‎‎‎‎‎‎‎‎‎‎‎‎‎‎‎‎‎‎‎‎‎‎‎‎‎‎‎‎‎‎‎‎‎‎‎‎‎‎‎‎‎‎‎‎‎‎‎‎‎‎‎‎‎‎‎‎‎‎‎‎‎‎‎‎‎‎‎‎‎‎‎‎‎‎‎‎‎‎‎‎‎‎‎‎‎‎‎‎‎‎‎‎‎‎‎‎‎‎‎‎‎‎‎‎‎‎‎‎‎‎‎‎‎‎‎‎‎‎‎‎‎‎‎‎‎‎‎‎‎‎‎‎‎‎‎‎‎‎‎‎‎‎‎‎‎‎‎‎‎‎‎‎‎‎‎‎‎‎‎‎‎‎‎‎‎‎‎‎‎‎‎‎‎‎‎‎‎‎‎‎‎‎‎‎‎‎‎‎‎‎‎‎‎‎‎‎‎‎‎‎‎‎‎‎‎‎‎‎‎‎‎‎‎‎‎‎‎‎‎‎‎‎‎‎‎‎‎‎‎‎‎‎‎‎‎‎‎‎‎‎‎‎‎‎‎‎‎‎‎‎‎‎‎‎‎‎‎‎‎‎‎‎‎‎‎‎‎‎‎‎‎‎‎‎‎‎‎‎‎‎‎‎‎‎‎‎‎‎‎‎‎‎‎‎‎‎‎‎‎‎‎‎‎‎‎‎‎‎‎‎‎‎‎‎‎‎‎‎‎‎‎‎‎‎‎‎‎‎‎‎‎‎‎‎‎‎‎‎‎‎‎‎‎‎‎‎‎‎‎‎‎‎‎‎‎‎‎‎‎‎‎‎‎‎‎‎‎‎‎‎‎‎‎‎‎‎‎‎‎‎‎‎‎‎‎‎‎‎‎‎‎‎‎‎‎‎‎‎‎‎‎‎‎‎‎‎‎‎‎‎‎‎‎‎my bullsh*t, swing back with a full clip
They say I'm moving ruthless
And my shootеrs, they shootin'
I won't take her to Ruth's Chris (And my shootеrs, they shootin'), damn


[Verse]
I get the breesh, then it's adiós
If I'm with your treesh, then she's giving throat
When I see police, then we getting low (When I see police)
That's another piece, that's another Zoe
Ice in the VV's, now she's down to get treeshy (Ice in the VV's)
I got all this water on me like FIJI
Bitch, I'm posted up with Hats and the Sleezys
Smokin' the Zaza, it goes straight to the māthā
Then I'm uppin' the choppa
I'm hittin' the cha-cha, open his lata
Then he dancin' bachata

[Bridge]
Smokin' the Zaza, it goes straight to the māthā
Then I'm uppin' the choppa
I'm hittin' the cha-cha, then I open his lata
Then he dancin' bachata


[Chorus]
Whoopty
B*tch, I'm outside, it's a movie (Whoopty), huh
Blue cheese
I swear I'm addicted to blue cheese
I gotta stick to this paper like loose leaf (Huh)
B*tch, I'm 'bout my chicken like it's a two-piece
You can have your b*tch back, she a groupie
She just swallowed all my kids in the two-seat (Gag)
Swagged out
For Milly, we bringing them gats out (Gat)
I still got some racks stuffed in the trap house
Off the '42, I'm blowing her back out (Blowing her back out)
I'm back on my bullsh*t, swing back with a full clip
They say I'm moving ruthless
And my shooters, they shootin'
I won't take her to Ruth's Chris (And my shooters, they shootin', ayy)


[Outro]
Swagged out
For Milly, we bringing them gats out
I still got some racks stuffed in the trap house
Off the 42, I'm blowing her back out (Blowing her back out)
I'm back on my bullsh*t, swing back with a full clip
They say I'm moving ruthless
And my shooters, they shootin'
I won't take her to Ruth's Chris (And my shooters, they shootin')