City Girls' Yung Miami Shocks Fans By Crowd Surfing While Pregnant - WATCH
14 June 2019, 13:54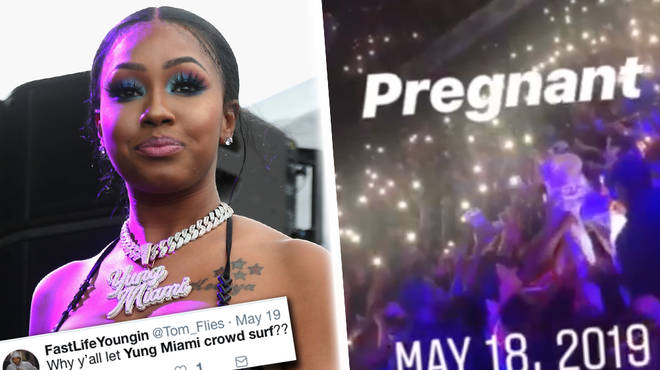 Yung Miami has received backlash for a video she posted on Instagram of her crowd surfing while she's pregnant.
On Tuesday (Jun 13th) Yung Miami took to Instagram to show her fans how hard she has been working while she's been pregnant. While posting some photos of her performances, she shared a video of her crowd surfing while she's pregnant.
The video has received backlash from her fans as the star was seen crowd surf in an excited crowd, which could have possibly ended badly.
Yung Miami posted several photos and clip on her Instagram story, of herself on stage performing with her disguised baby bump.
During one video she uploaded, the star leaps into the crowd and got passed around by her fans. Yung Miami's fans expressed their worries on social media about the video.
Fans have advised Miami to be more careful in the coming months. One Instagram user wrote "Baby mad asf in the womb," underneath a blog's comments section.
Another user wrote : "I don't think you should crowd surf while pregnant!" on Instagram.
Many fans were concerned about the babies safety.
Earlier this week, the City Girls rapper Yung Miami announced that she is expecting her second child with her boyfriend Southside.