China Has Just Banned Hip-Hop Culture & Tattoos From Television
24 January 2018, 12:48 | Updated: 24 January 2018, 13:08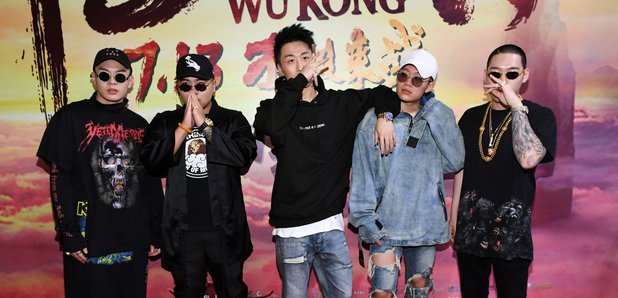 "Tasteless, vulgar and obscene" actors are no longer permitted.
China has officially banned Hip-Hop culture and actors with tattoos from appearing on television, reports TIME.
From now on, the country's top media regulator "specifically requires that programs should not feature actors with tattoos [or depict] hip hop culture, sub-culture (non-mainstream culture) and dispirited culture (decadent culture)," Chinese news outlet Sina reports.
There are now four 'Don't' rules that were put in place by the State Administration of Press, Publication, Radio, Film and Television of the People's Republic of China (SAPPRFT).
Gao Changli, director of the administration's publicity department, outlined the rules last Friday and are as follows:
Absolutely do not use actors whose heart and morality are not aligned with the party and whose morality is not noble
Absolutely do not use actors who are tasteless, vulgar and obscene
Absolutely do not use actors whose ideological level is low and have no class
Absolutely do not use actors with stains, scandals and problematic moral integrity
The new regulations were put in place following a recent string of controversies regarding censorship of the genre in the country.
A number of Chinese Hip-Hop artists have come under fire in recent weeks for behaviour perceived as contentious, inappropriate lyrics and utilising controversial themes in their music.
A rapper named GAI was cut from hit Chinese singing competition show, 'Singer', while rapper VaVa was removed from a variety show called 'Happy Camp' because of her association with Hip-Hop.
Notable rapper PG One issued a public apology earlier this month after his song 'Christmas Eve' was slammed for allegedly promoting drug culture and portraying sexist values.
Additionally, Triple H, an influential underground rapper, has been removed from several major streaming sites.
After news of the ban broke online, people took to Twitter to share their thoughts.
China's wrongly conflating lack of morality with hip hop. Not unlike America. Coupled w/ the blatant racism African expats face on the daily, this isn't a good look for China. I'm sure I could do a deeper dive on this, but that's all I got right now. https://t.co/nKIjhBBlEu

— Monique Jones (@moniqueblognet) 23 January 2018
China isn't being racist and "banning hip-hop". They want to curb the superficial appropriation of African-American culture, which divorced from its progressive historical context has led to some chauvinistic Chinese hip-hop promoting sexism and glorifying wealth and hedonism https://t.co/wNd78bOTRE

— Ajit Singh (@ajitbirsingh) 23 January 2018
I mean I think it's sad that a bunch of ppl in China are not gonna have the beautiful art form that is Hip Hop. Then again alot of non black ppl dont know how to act with black culture no way so idk.... still f'd up tho

— LOOΠΔ-OLOGIST PHD (@GowonStanLOONA) 24 January 2018
When did China become an expert on the "substance" of hip-hop. They need to sit this one out https://t.co/NIqxK4DjTu

— *Lil Uzi voice* now I do what I want (@violaslayvis) 24 January 2018
China will no longer allow actors with tattoos on TV. They're also banning Hip-Hop from TV. Meanwhile, 56% of music nominated for Grammys in America is Hip-Hop. What a world.

— cory michael smith (@mister_CMS) 24 January 2018