Did Beyoncé Change Her Nail Polish During Her Coachella Performance?
16 April 2018, 10:49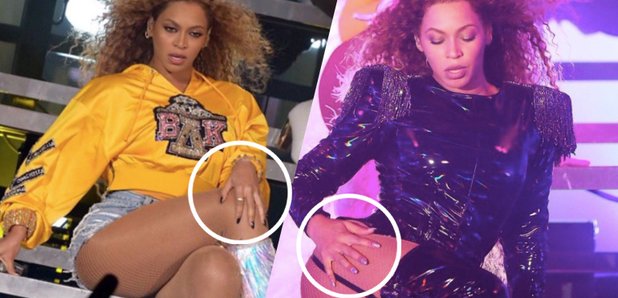 *Adds to list of things Beyoncé can do that no other being can*.
As if the world wasn't shaken enough by Beyoncé's momentous Coachella 2018 performance, fans spotted something during her set that even they were stunned by.
Bey pulled of four costume changes during her two-hour hit-laden extravaganza, which included a whopping 26 songs spanning her impressive back catalogue, and featured appearances from Jay Z, Solange and her Destiny's Child bandmates.
The R&B songstress also made history by becoming the first black woman to headline the annual California event, with her DC reunion marking the first girl group to perform at the festival.
Still not impressed? Well, some eagle-eyed viewers are convinced the singer changed her nail polish colour midway as well. Yep.
Fans tweeted in disbelief after spotting that Bey swapped between a light colour and a darker hue on her nails during her performance.
So am I the only one who noticed when @Beyonce went to change outfits she changed her damn nail polish? We don't deserve her! @coachella #coachella #beychella pic.twitter.com/R27kQ5lIBs

— Jerome Trammel (@MrJeromeTrammel) 15 April 2018
BEYONCÉ EVEN MANAGED TO DO A NAIL CHANGE. SHE IS LITERALLY A GODDESS. #BEYCHELLA pic.twitter.com/MXROm7x0BL

— Beyoncé News (@TheYonceNews) 16 April 2018
If Beyoncé can remove her nail polish and reapply a different color during a 5 minute costume change and STILL not break a sweat then a bitch can get through the rest of this semester

— Kobe (@KobePereira) 16 April 2018
Also, please note amongst all the singing and dancing and slaying Beyoncé even had time to change her nail varnish colour mid show.. if like me you struggle with maintaining a good varnish for more than about 10 minutes you will know how impressive that is #Beychella

— Molls (@Mollyhart_) 15 April 2018
If the fact that Beyoncé managed to change nail polish between costume changes at Coachella doesn't explain how epic she is I dunno..

— Nicky Rothschild (@NickyHilton) 16 April 2018
Beyoncé changed her nail color during her wardrobe change. HER DAMN NAILS.

your fav could never! pic.twitter.com/36GYAIxfK1

— Keekz (@keekzcurls) 16 April 2018
Bow down, indeed.