Chance The Rapper On Donald Trump's Presidency: "I'm Not Afraid"
12 January 2017, 12:22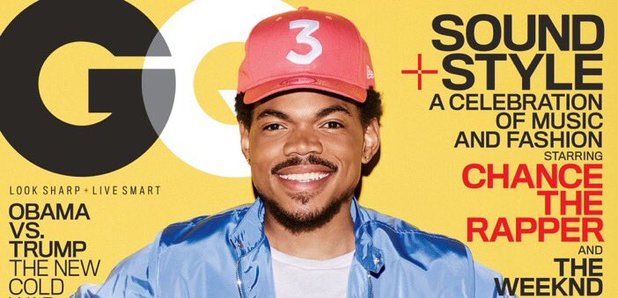 Lil' Chano has spilled the tea.
Chance The Rapper has revealed that he's "not afraid" of Donald Trump's upcoming presidency.
As his friend Barack Obama prepares to step down from his position as President Of The United States, it seems that Chance is ready for whatever the next four years may bring after Trump enters the Oval Office.
Speaking to GQ for their February 2017 issue, the Grammy-nominated rapper opened up about the lessons he learnt through his father, who previously worked for Obama during his Senator days.
"I want to be the good guy. And sometimes the good guy sounds like a lame thing," Chance admits.
"But the good guy, in what I've seen happen so far, the good usually wins. That's why I'm not afraid of a Trump presidency."
The Chicago native also gives his two cents on Trump's notorious campaign motto 'Make America Great Again'.
"Like, "Make America Great Again," that's not a real thing because s**t ain't really switched up for them. It's not really going that bad for you,"
"If you feel like you're the under-represented, under-appreciated side of Middle America that is white—quote me—you need to, uh, toughen up, n***a!"
Through his music, Chance explains, he aims to provide "hope and understanding" for his fans in what many are anticipating to be a difficult time ahead.
"People are raising their kids to be more and more knowledgeable and understanding. I would say the main reason not to be afraid is that I'm making music for your kids now," he explains.
"I'm coming so clean-cut with the message of hope and understanding, and the Word, that it's like: What could you be fearful of?"
On his long-time idol Kanye West, Chance confessed that him and Yeezy are more un-alike that people may assume.
"I don't think I ever wanted to be like Kanye in personality," he said.
"I think I definitely want to, have always wanted to, have his boldness or assurance in myself. But I've definitely seen Kanye do things where I was like, "I'd never do that.""
His 'Ultralight Beam' collaborator made headlines last year after meeting with President Elect Donald Trump to discuss "multi-cultural issues", such as "bullying, supporting teachers, modernizing curriculums, and violence in Chicago."
You can read Chance's full GQ interview here.