People Seriously Thought This Was Cardi B's Real Name & Twitter Is Howling
1 February 2018, 12:26 | Updated: 10 April 2018, 14:56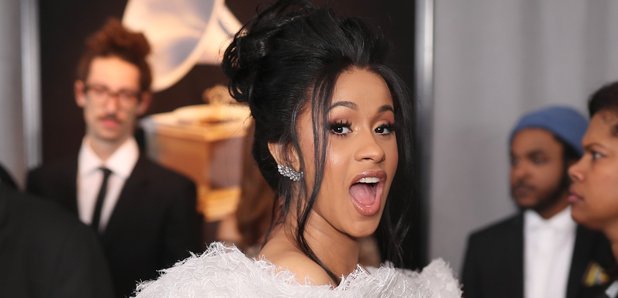 This is ridiculous.
Cardi B is a two-time Grammy nominee, a chart-topping rapper and arguably the most talked about new artists of the last twelve months.
But, despite her continued upward spiral of success and persistent presence on the airwaves, it appears one thing about Cardi is still a mystery to some - her name meaning.
Because, contrary what many believe, Cardi's name is not short for 'cardiovascular bronchitis'.
Yep, that's seriously what some people thought. Cardiovascular bronchitis isn't even a thing.
who the fuck said that cardi b is short for cardiovascular bronchitis

— ada cucharada (@ada_sack) 29 January 2018
CARDIOVASCULAR BRONCHITIS - IM WHEEZING https://t.co/gbU84VjSoD

— alex (@pjiminq) 31 January 2018
There's actually no such thing as cardiovascular bronchitis those are two completely different systems DONT COME FOR MY GIRL CARDI LIKE DAT OKKURRRR https://t.co/66TTSGvY7S

— Amanderss (@Gobrizzle) 31 January 2018
"no Cardi B is not short for cardiovascular bronchitis" I'M CHOKING.

— Adam Noah Levine-Flynn (@rockstcrdAddy) 1 February 2018
Cardi's name meaning has been a topic of conversation ever since her rapid rise to fame, but the star - born Belcalis Almanzar - has actually confirmed what 'Cardi B' means before.
The 'Cardi' element stems from the drink 'Bacardi' - the 'Bodak Yellow' rapper's sister is named Hennessey Carolina, hence Cardi picking up her beverage-releated nickname.
The Bronx native simply moved the B at the beginning of 'Bacardi' to the end, and the rest is history, although she also said it could stand for "beautiful" or "bully", depending on the day.
Cardi's fans knew this already, of course, but took it upon themselves to enlighten others and correct their hilarious misinterpretations.
First of all, it's for bacardi
Second of all, how would cardiovascular bronchitis even make sense. Inflammed bronchioles in your heart...? https://t.co/p70bS069LQ

— Marissa St.George (@marissalouise14) 31 January 2018
Cardi's sister's name is Hennessy which led to Cardi's nickname being Bacardi (because both are alcohol) which then got shortened to Cardi B

— Matt | 171 days (@BraveNewMatt) 29 January 2018
But some people still have other ideas...
cardi b is short for cardinal bertrand du pouget, who oversaw portions of the papal migration to avignon

— KT NELSON (@KrangTNelson) 29 January 2018
Cardi B is short for Cardigan Bay, I heard she used to love summer holidays there in a caravan on the outskirts of Aberystwyth.

— Alexander Newton (@AlexTheNewton) 1 February 2018
cardi b is short for cardis bagainst humanity

— Неоновый Генезис Евангелион (@DOGGEAUX) 1 February 2018
Ok but is cardi b short for cardinal birds

— Nidhi Oruganti (@nidhioru) 1 February 2018
Enough is enough. We're sorry, Belcalis.