Cardi B & Offset Reveal Why They Have Put Their Wedding Plans On Hold
25 January 2018, 11:32 | Updated: 10 April 2018, 14:58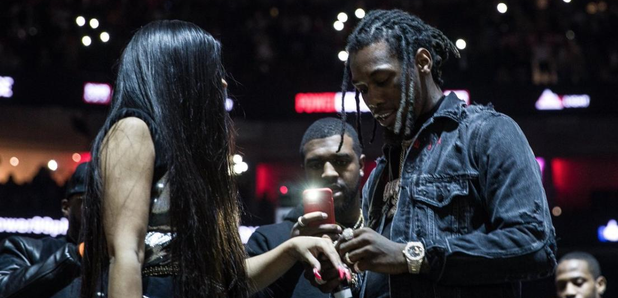 Cardi and Offset have pushed back their wedding...
Cardi B and Offset have revealed that they have put their wedding plans on hold.
The couple, who were hit by numerous cheating rumours over recent weeks, have admitted that they will push back plans to officially tie the knot.
Migos rapper Offset broke the news during a new interview with Rolling Stone magazine.
"We ain't planning it right now. We chilling. We don't got time for that right now," he said.
However he made sure to heap praise on his fiancée despite the announcement.
"She is real solid, came from where I came from, did what I did. She's herself, man. I seen her develop from the trenches all the way up, and I like how she did it. I respect her grind as a woman. She came to the game with some gangsta sh*t. I like that. I f*ck with her. That's my baby."
The Migos rapper, who recently faced accusations of homophobia, recently got Cardi B's name tattooed on his neck alongside a picture of a Powerpuff Girl.
Following the numerous allegations of Offset cheating on Cardi B over recent weeks, the 'Bodak Yellow' rapper has continued to defend their relationship together.
Meanwhile, Migos' new album 'Culture 2' is set for release tomorrow (26th January), while Cardi B's highly-anticipated debut album is expected to be released in the coming months.