People Are Comparing Cardi B To Janice From 'Friends' & Their Reactions Are Hilarious
16 January 2018, 13:11 | Updated: 10 April 2018, 14:59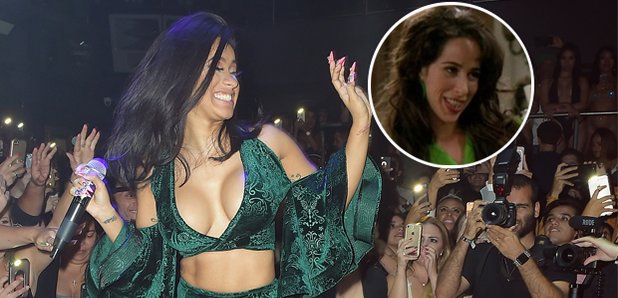 "When I listen to Cardi B, I imagine Janice from Friends rapping it"
Since Cardi B exploded into the Hip-Hop world in 2017 with her infectious hit single 'Bodak Yellow', the New York rapper has been everywhere.
However some fans think they may have seen her before on a slightly different platform.
The 'Motorsport' star is now being hilariously compared to popular 'Friends' character Janice by a growing number of people on social media.
According to some fans, her voice and mannerisms make her a direct comparison for Janice, who was played by actress Maggie Wheeler in the iconic sitcom.
Check out some of the best reactions below:
Why does Cardi B's voice remind me of Janice from friends??

— Dead weight ™ (@ABrokenDad) 1 December 2017
Are we sure cardi b isn't Janice from friends?

— Liv Hope (@livhope98) 13 January 2018
When I listen to Cardi B, I imagine Janice from Friends rapping it and I laugh really fucking hard

— ShilohRen (@shiloverkill) 6 January 2018
Whoever tweeted Cardi B reminds them of Janice from friends, first of all you ruined Cardi for me, her voice is bare jarring now!! pic.twitter.com/8DzBCo6AHe

— #BornToWine (@georgia24se7en) 30 December 2017
Anyone else think Cardi B is just a Bronx version of Janice from Friends? The hair, the unique laughs, I mean come on. https://t.co/5B4S6QWQPK

— Grant Ricossa (@gRicossa) 25 December 2017
Hahahaha my mom mistook Cardi B as Janice from Friends. I am screaming!!!!!

— Sure Sya Row Nun (@JaoLuarden) 25 December 2017
Cardi B, looks like Janice's Friend. AHAHAHA until her laugh pic.twitter.com/wmSUm5PorJ

— KRnt (@Krntvargs) 22 December 2017
I saw a video of Cardi B for the first time and all I could think is how her voice and the way she talks reminds me of Janice from Friends.

— Brianne Frieden (@Briannefrieden_) 22 December 2017
Meanwhile, Cardi B has once again responded to fans' concerns about her engagement with Migos rapper Offset.
The Atlanta rapper, who proposed to her live on stage, has been caught up in a series of cheating scandals over recent months and recently got a tattoo of her name on his neck.
Cardi is also expected to release her debut album in the coming months, following the release of her new single 'Bartier Cardi' featuring 21 Savage.
You might also like...