Bryson Tiller Tickets Just Sold Out In Ten Seconds And Twitter Is Losing Its Sh*t
15 January 2016, 12:22 | Updated: 13 April 2016, 16:32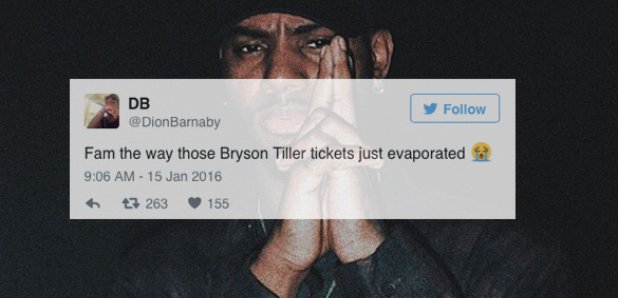 Many fans were left disappointed.
Tickets for Bryson Tiller's upcoming show at London's KOKO have sold out in less than one minute.
The rising singer/rapper, who recently released his critically acclaimed mixtape 'Trapsoul', is set to kick off the Spring leg of his European tour in March.
However tickets for his show sold out so quickly, many fans lost out:
Bryson Tiller tickets went on sale at 9am and were sold out by 8.59am

— new day new options (@Sirpaulie25) January 15, 2016
"Did you get Bryson Tiller ticke…" pic.twitter.com/rXWNM5UcZS

— M-dré (@MikeDre_) January 15, 2016
Every female this morning due to Bryson Tiller pic.twitter.com/L46z3SyuRQ

— savage (@_0312__) January 15, 2016
"Selling Bryson tiller tickets for £200, holla!".......... don't

— Upbeat (@Aaliyah_jx) January 15, 2016
IMAGINE I saw KANYE WEST & BBK @ KOKO for £60 and ppl are gonna pay £110 for Bryson Tiller??? u lot are nuts

— nicole (@nicoleyngx) January 15, 2016
Securing a Bryson tiller ticket is like winning a golden ticket to willy wonkas factory

— Hendrix (@_mannyyyyyy) January 15, 2016
Fam the way those Bryson Tiller tickets just evaporated

— DB (@DionBarnaby) January 15, 2016
Bryson Tiller's European tour also stops off in France, the Netherlands, Belgium, Germany, Denmark, Sweden and Norway.