Bruno Mars Is Being Accused Of Cultural Appropriation & Opinions Are Divided
12 March 2018, 12:47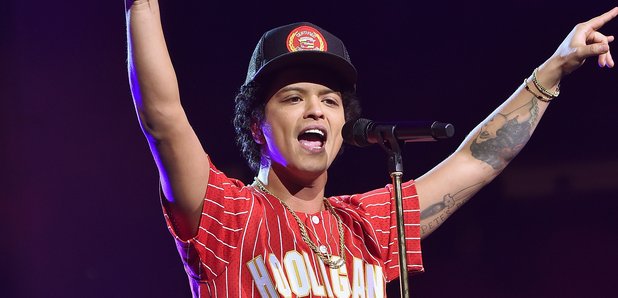 A huge debate has been sparked online regarding the artistry of Mars.
Bruno Mars is currently at the centre of ongoing debate online after being accused of being a "cultural appropriator".
During an episode of YouTube's 'The Grapevine', a panelist and writer named Sensei Aishitemasu argued that Mars creates and performs music that culturally appropriates black culture.
"Bruno Mars 100 percent is a cultural appropriator," says Sensei, arguing that the R&B singer uses "his racial ambiguity" to "cross genres".
"He takes pre-existing work and he just completely, word-for-word recreates it, extrapolates it," he adds, before comparing the '24K Magic' star to his self-confessed inspirations Michael Jackson and Prince.
"He is not an original artist in the same way that Michael Jackson was an original artist, or the way that Prince was an original artist."
this is why i hate bruno mars @seren_sensei says it all pic.twitter.com/CRLktsA2ea

— hannie (@hannahmburrell) 9 March 2018
The footage soon went viral and, while many agreed with Sensei's views, fans of Bruno's quickly leapt to the defence of the 'Versace On The Floor' singer.
Many argued that the Grammy-award winner - who is of Filipino, Puerto Rican and Ashkenazi Jewish descent - is the "least" problematic musician in the game.
Furthermore, people were quick to add that Mars has frequently given credit to black-dominated genres, like funk and soul, and its musicians for allowing him to perform.
Of all the non-black artists who explicitly draw influence from black culture, Bruno Mars is easily the most respectful. Constantly pays reverence to his influences. Appropriation and expropriation are rampant but not sure why we're still doing this with him tbh https://t.co/nl5C7yhiYw

— Jiggy Gillespie (@jcsaffo21) 9 March 2018
I hate "fake woke" twitter with a passion. Why is Bruno Mars randomly being attacked ? The guy is pure talent. Learn the difference between culture appreciation & appropriation.

— hris (@ProdByCA) 9 March 2018
Except Bruno Mars credits the originators, which is a core issue with cultural appropriation. He's not taking black culture away from black people a la Elvis Presley, he's performing in that space whilst contributing to and crediting the black community.

It's not the same thing. https://t.co/xDNSUrzJU1

— YouTube : Shogun FC (@AshElNegro) 9 March 2018
Some valid points were raised but others could be explained a bit more. Cultural Appropriation is complex and far more nuanced than doing styles of music. Bruno doesn't dismiss the culture - in fact he gives credit to origin. He's not claiming he invented or revolutionized it.

— JesterJ (@Jestereye7x) 9 March 2018
You could actually be using your platform to call out ACTUAL culture vultures or better yet individuals within the community who are cancerous to the culture.

But you can keep your Bruno Mars think Piece.

Give that energy to Chris Brown, Lil Pump, or the "how bout dat" girl.

— Wakanda & Cosmo (@roblee_swagger) 9 March 2018
I agree somewhat but to discredit Bruno because he isn't black is foolishness because if a black person crossed over to country music and flourished like Bruno she'd be singing a different tune.

— b (@kweensass) 9 March 2018
Mars is yet to respond to the criticism.
The singer is preparing to hit the road again for the next leg of his successful 24K Magic World Tour, which will feature his 'Finesse' collaborator Cardi B as the support act.
What do you think?