Twitter Is Roasting Bow Wow After He Photoshopped Himself Into The Death Row Roster
17 October 2017, 12:42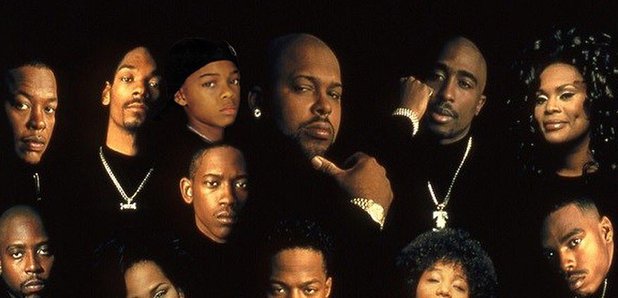 Oh, Shad Moss.
Bow Wow has found himself at the receiving end of online ridicule once again.
The rapper, real name Shad Moss, was roasted on Twitter after posting an image of the iconic Death Row Records artists with a young photo of himself photoshopped alongside them.
"Where it all started," he captioned the picture.
Where it all started ... pic.twitter.com/GmyRNaA6a2

— Shad Moss(Bow Wow) (@smoss) 16 October 2017
The original image was from VIBE's classic cover in February 1996, and features a whole host of the legendary West Coast artists.
Slotting himself between Hip-Hop heavyweights including Tupac, Snoop Dogg and Dr. Dre was a young Bow Wow, who popped himself on the top row.
Unsurprisingly, Twitter wasn't having any of it.
When I saw that pic Bow Wow posted I JUST KNEW he was in there somewhere I was looking for him like Where's Waldo

— Spooky Blaylock (@MolaLutherKing) 16 October 2017
Bow Wow is that delusional cousin that swore he would've went pro if he didn't roll his ankle in that JV basketball game.

— Susie Sarah Glock (@OhSheila_) 16 October 2017
Bow Wow photoshopped himself onto a death row composite photo. He's exhausting. Like he embarrasses me so much.

— tt (@tierrashanice_) 16 October 2017
"Bow wow does anything"
Twitter: pic.twitter.com/BRqWxkk59Z

— ash (@blaquepink) 17 October 2017
The rapper later clarified that he was previously part of the 'Death Row 6', and that the image was sent to him by a fan.
Although not technically signed by Death Row, Bow Wow did work with Snoop Dogg back in the 90s through the iconic label when he had 'Lil' in front of his name.
I was on death row at 6. This was the label roster. A fan sent me the pic it brought back memories. Big was on bad boy my bros. https://t.co/iNt7wFFI6V

— Shad Moss(Bow Wow) (@smoss) 16 October 2017
Facts. Fan sent me the pic its not the original from VIBE im like damn it just took me back i was apart of some legendary shit. Blessed https://t.co/kEbUZhuuIT

— Shad Moss(Bow Wow) (@smoss) 16 October 2017
This isn't the first time Bow Wow has faced criticism for appearing to bend the truth on social media.
After allegedly lying about boarding a private jet, Moss sparked the infamous 'Bow Wow Challenge' which saw users make their own false, outlandish claims about how rich they were.