Blac Chyna's New Mystery Man Spotted "Sucking Her Toes" During Dinner Date
24 September 2019, 12:40 | Updated: 5 October 2020, 12:41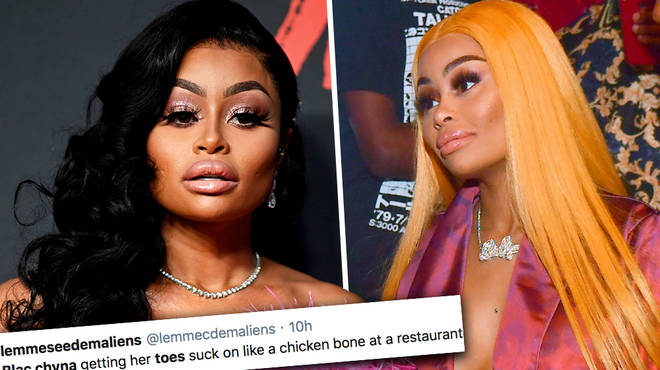 Model Blac Chyna has been spotted engaging in intimate foot activity with her new mystery man, on a dinner date.
Blac Chyna has been spotted out with a new man on the way to their dinner date. On Sunday night, Blac Chyna and her new mystery man, who had quite the appetite on him, got spotted at a romantic restaurant.
This news comes as a surprise to Blac Chyna fans, as they thought she was taking a break from relationships after Soulja Boy.
According to TMZ, the pair were spotted at a restaurant in Woodland Hills, California. Chyna and her mystery man was sitting across from each other, but still managed to stay intimate.
Blac Chyna's new man decided to get a taste of Blac Chyna's toes at the dinner table. It's unclear why the man chose to suck on Chyna's toes who there's several options on the dinner menu. See the photos here.
The man was photographed sucking Blac Chyna's toes at the table, in the middle of the restaurant. Blac Chyna looked more than happy to let her mystery man suck her toes.
For now, China's mystery man is hadn't been identified, however, after the attention this has received, surely someone will know who he is.
Blac Chyna was last romantically linked to rapper Soulja Boy, who claimed he just "hit it and quit it". However, Chyna denied the claims and said that the "Crank That" rapper was just being a clout chaser.
There were rumors that circulated that Chyna was back with her ex-boyfriend YBN Almighty Jay, after they were spotted out together. However, Chyna has clearly moved on.