Tyga Responds To Blac Chyna & Rob Kardashian Engagement
7 April 2016, 10:45 | Updated: 13 April 2016, 16:34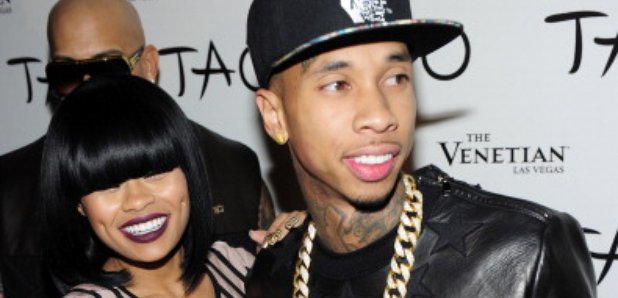 The Kardashian family tree is about to get really complicated.
Update
Tyga has responded to news that the mother of his child, Blac Chyna, is now reportedly engaged to Rob Kardashian.
The rapper had been the subject of trolling on social media due to his complicated relationship with Blac Chyna and Kylie Jenner.
However the 'Rack City' rapper has now taken to Twitter to address the situation.
In a series tweets, Tyga claimed that the only thing that is important to him is the happiness of his and Chyna's son, King.
Everybody deserves 2 be happy. What some1 does for their happiness is not my concern, as long as it's not interfering wit my happiness.

— T-Raww (@Tyga) April 6, 2016
It makes me happy to see the mother of my son happy.My only concern in this situation is my son. I want him in happy environments.

— T-Raww (@Tyga) April 6, 2016
He's innocent in this. & I want him to feel as much love as possible.

— T-Raww (@Tyga) April 6, 2016
Black Chyna's BFF, Amber Rose, tweeted congratulating the couple.
Congratulations to my Family @blacchyna and @robkardashian!!! pic.twitter.com/SnaEVwL94N

— Amber Rose (@DaRealAmberRose) April 5, 2016
Could this be confirmation of the engagement?
If so, congrats to the happy couple.
5th April 2016
Blac Chyna has dropped a huge hint that she is engaged to Rob Kardashian, after showing off a huge diamond ring on finger.
The model and mother of Tyga's child, sparked rumours by sharing the picture on Instagram alongside the caption "yes".
The couple have been dating since the start of the year.

Adding further fuel to the rumours, Chyna's mother appeared to comment on the photo, writing: "Congrats baby!"
She also reportedly said: "I am so excited!! I am happy for you guys!!!"
Following Blac Chyna's post, social media exploded with responses:
Some people trolled Tyga's Instagram page with ring emojis.
While others tried to work out the potential new Kardashian family tree:
Rob Kardashian & Blac Chyna- engaged. So if Tyga & Kylie get married, Kylie will be both stepmom & aunt to his son. Mama Auntie. WTF, man.

— Angi Taylor (@AngiTaylorKISS) April 5, 2016
If Blac Chyna and Rob get married & Tyga ends up with Kylie, that would make Tyga the father AND uncle of his kid...

— Drumpf (@realDonaId) April 5, 2016
So Rob and Chyna are enganged, so that means Rob is tha step dad to Tyga's son and Chyna is a Kadashian.. iths mad

— Mr Mullings  (@DejjMullings) April 5, 2016
So Blac Chyna is marrying Rob Kardashian. Tyga is with Kylie, so that means Blac Chyna is Kim's first bestfriend's daughters son?!! Whaaat

— Jayceon T Taylor (@AIgerian) April 5, 2016
Meanwhile, there are also currently rumours circulating around social media that Kylie Jenner is pregnant with Tyga's child.
However there has been no official confirmation so far.